Print Friendly Version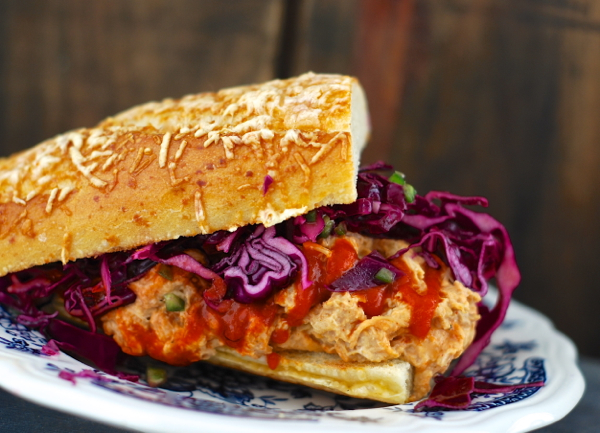 There's been lots of Crock Pot cookin' happenin' in our house this week. It's so nice to be able to make delicious, easy dinners that don't heat up the kitchen in the summer.
Here's another one that's oh-so-simple and yummy!
for approximately 12 sandwiches:
4 lb. boneless skinless chicken thighs
1 teaspoon liquid smoke
1 teaspoon salt
1 teaspoon freshly ground black pepper
1 Tablespoon paprika
1 teaspoon garlic powder
1 large onion, chopped
8 oz. cream cheese, softened to room temperature
sriracha hot sauce (Huy Fong is the BEST!)
shredded cabbage mixed with a little sugar, red wine vinegar, and olive oil
3 fresh jalapeno peppers, seeds and stems removed, chopped fine
French rolls, Kaiser buns or baguette (we used Trader Joe's Garlic Parmesan)
Place chicken thighs in crock of a 7 to 8 quart slow cooker. Rub the liquid smoke all over meat.  Mix the salt, pepper, paprika, and garlic powder in a small ramekin and stir to combine. Rub this seasoning mixture all over the chicken pieces. Cover slow cooker and set on the LOW setting for 7 to 8 hours, or the HIGH setting for 4 to 5 hours. Meat is done when it shreds easily.
Once meat is done, transfer it and the onion to a platter using a slotted spoon. Discard the juices or freeze them. (They make a great stock starter for soup or stew.) Return meat and onions to the slow cooker. Turn it to the WARM setting. Add cream cheese and mix until well combined. You can keep it in the slow cooker on warm for up to an hour. Once ready to serve, pile the creamy meat mixture on bread of choice (I recommend something rustic and hearty that will hold up to the juicy meat.) Top with sriracha, slaw, and jalapenos.
Enjoy!
~Melissa
You may enjoy these related posts: