Print Friendly Version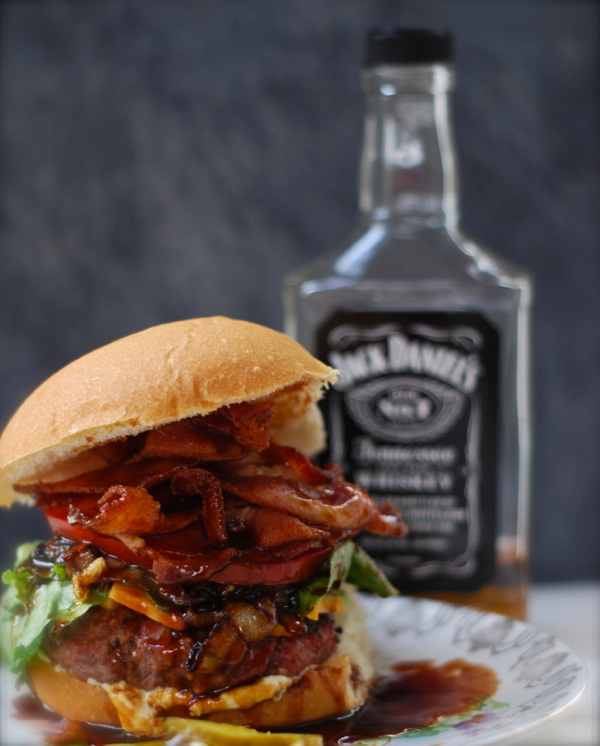 We've been having fun creating delicious recipes for the grill, and this one turned out absolutely amazing. I started with the basic, original recipe for Jack Daniel's glaze and added some other ingredients that I think add more depth and flavor to this burger experience. I've had the Jack Daniel's glazed burger at TGI Fridays, and this one is better.
for 5 big burgers:
5 fresh burger buns (your favorite)
2 and 1/2 lbs. ground chuck
2 large cloves fresh garlic, minced
1 shot Jack Daniels whiskey
1 Tablespoon freshly ground black pepper
1/2 lb good quality bacon, fried until crispy
1 large sweet onion, sliced
5 thick slices of a large ripe tomato
sliced, extra sharp cheddar cheese
lettuce
sweet pickle chips
a little mayonnaise
Jack Daniel's Glaze (recipe below)
Combine the ground chuck, minced garlic, black pepper and shot of Jack Daniels until evenly mixed. Form into 5 large patties with a little divet in the center. Place patties on a plate and cover with plastic wrap. Place in refrigerator until ready to grill.
Fry the bacon until crispy. Remove bacon and set aside on a paper towel-lined plate. Remove all but 2 Tablespoons of the bacon grease from the skillet. Fry the onion in the remaining 2 Tablespoons bacon grease over medium heat until slightly caramelized and sticky. Remove onion from heat.
~ Jack Daniel's Glaze ~
(makes approximately 2 cups)
1 cup dark brown sugar
1/2 cup Jack Daniel's whiskey
1/2 cup soy sauce
1/2 cup ketchup
1 heaping Tablespoon steak sauce (such as Heinz 57)
1 heaping Tablespoon Sriracha hot sauce (or your favorite)
3 teaspoons apple cider vinegar
2 teaspoons bacon drippings
2 teaspoons garlic powder
1 teaspoon onion powder
1 teaspoon paprika
1/2 teaspoon chipotle powder
a pinch of cayenne pepper
Combine all glaze ingredients in a medium size saucepan. Simmer until slightly thickened over medium-low heat for about 5 minutes. Stirring frequently with a wire whisk.
Grill burgers over charcoal until done to your liking.
To assemble: Spread a little mayonnaise on each half of burger bun. Place grilled burger on bottom half of burger bun. Top with some of the fried onion, cheese, lettuce, tomato, pickle chips, bacon and Jack Daniel's glaze.
Enjoy!
~Melissa
You may enjoy these related posts: