Print Friendly Version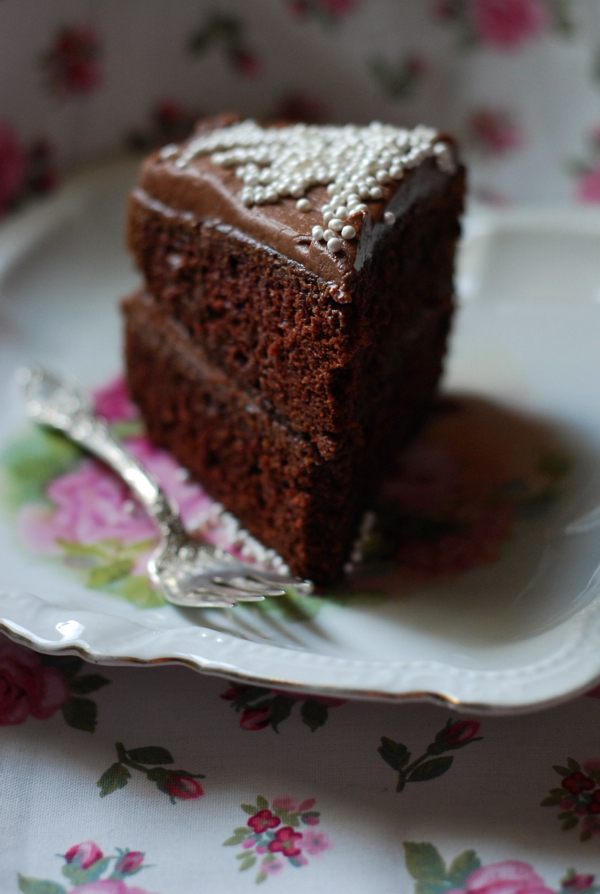 After spending the day cooking up a new soup recipe I discovered in my new copy of Tasha Tudor's adorable recipe book, I decided to go all out and make a homemade chocolate cake for dessert. We went overboard buying cake flour when I was experimenting with red velvet cakes to make THIS wedding cake back in July, and still had 3 boxes staring at me from their perch on my gourmet rack in the kitchen.
There's a recipe for "Simple Chocolate Cake" on the back of the Swan's Down cake flour box, and I made a rendition of that. I didn't have unsweetened, solid chocolate, so I used semi-sweet chocolate chips, and reduced the brown sugar measurement from 2 and 1/4 cups down to 1 cup. It worked out beautifully, and the result was this decadent, moist cake. Jeff and Gracie enjoyed their slices with dollops of whipped cream. I just put sprinkles on mine.
This would make a sweet Valentine's dessert. You could go overboard with heart sprinkles and put dreamy, pink strawberry icing or raspberry jam between the layers. Whatever you decide to do, I'm sure it will be lovely.
for the cake:
~ preheat oven to 350 degrees F. ~
1 cup semi-sweet chocolate chips, melted (I used Nestle)
1 stick unsalted butter
1 cup packed brown sugar
3 large eggs, lightly beaten
2 teaspoons pure vanilla extract
2 teaspoons baking soda
1 teaspoon sea salt
2 and 1/4 cups Swan's Down Cake Flour
1 cup sour cream (not reduced-fat)
1 cup boiling water
Butter and flour 2 (9 inch) round layer cake pans. Melt chocolate. Mix the butter and sugar together until fluffy. Mix in the eggs and vanilla until smooth and combined well. Mix in the melted chocolate.
In a separate bowl, combine the baking soda, salt and cake flour until evenly mixed. Mix wet and dry ingredients together, and finally mix in the sour cream and boiling water. (The batter will be somewhat thin.)
Divide batter evenly between the prepared cake pans. Bake approximately 30 minutes, or just until a wooden skewer or cake tester comes clean when inserted into the center of cake. Allow cakes to cool for 10 minutes in the pans. Remove to wire cooling racks to cool completely before frosting.
for the buttercream frosting:
1/2 cup (1 stick) softened butter
1 cup powdered sugar
1 Tablespoon pure vanilla extract
3 oz. (1/2 cup) semi-sweet chocolate chips, melted and cooled
Beat butter until light and creamy. Add the powdered sugar and vanilla and beat until mixed in evenly. Add the cooled, melted chocolate chips. Beat until smooth and color is uniform. Frost the cooled cake.
Enjoy!
~Melissa
You may enjoy these related posts: