Print Friendly Version
"This was Venice, the flattering and suspect beauty – this city, half fairy tale and half tourist trap, in whose insalubrious air the arts once rankly and voluptuously blossomed, where composers have been inspired to lulling tones of somniferous eroticism." ~Thomas Mann Death in Venice
I've been researchig Venice for the last 2+ years for my novel. While doing so, I've enjoyed immersing myself in the culture and mystery. Part of this has included cooking authentic Venetian food. I have to say. I love my job!
This is a recipe I've adapted from the gorgeous book, Venezia Food & Dreams, by Tessa Kiros. I love the recipe exactly the way it's printed, and have also made it by substituting gingersnaps for the amaretti, cream sherry for the grappa, and lemon for the orange. It was delightful both ways….and improved by a drizzle of heavy cream, a dollop of real whipped cream or a scoop of homemade vanilla ice cream.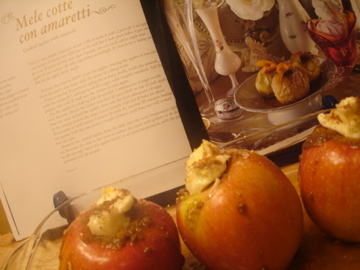 ~Mele cotte con Amaretti~
Cooked Apples with Amaretti
Preheat oven to 350 degrees F.
4 apples
10 amaretti cookies
1/4 cup raisins
3 Tablespoons sugar
3-4 Tablespoons grappa
2-4 Tablespoons real butter
1/2cup white wine
freshly grated orange peel
Core 4 lovely apples, leaving the apples in one piece. I find it's easier to core an apple with a paring knife than an actual 'apple corer.' When done coring, prick the skins of the apples a few times with a sharp knife. Place in a small baking dish.
Place 10 amaretti cookies, 1/4 cup golden or dark raisins, 3 Tablespoons sugar and 2 Tablespoons grappa in the bowl of a blender. Blend until combined well. Stuff into the center of each apple. Sprinkle a little more sugar over apples. top each with a couple teaspoons real butter and a pinch of cinnamon and nutmeg. Pour 1 cup white wine in pan around the apples and top all with a few teaspoons grated orange peel. Cover with foil. Bake for 20 minutes, or until tender. (Basting with pan juices a couple times.) Uncover and bake an additional 20 minutes until well cooked. Remove from dish. Place in dessert bowls and serve with cream, ice cream or whipped cream. Top with juices.
Enjoy!
~Melissa
You may enjoy these related posts: