Print Friendly Version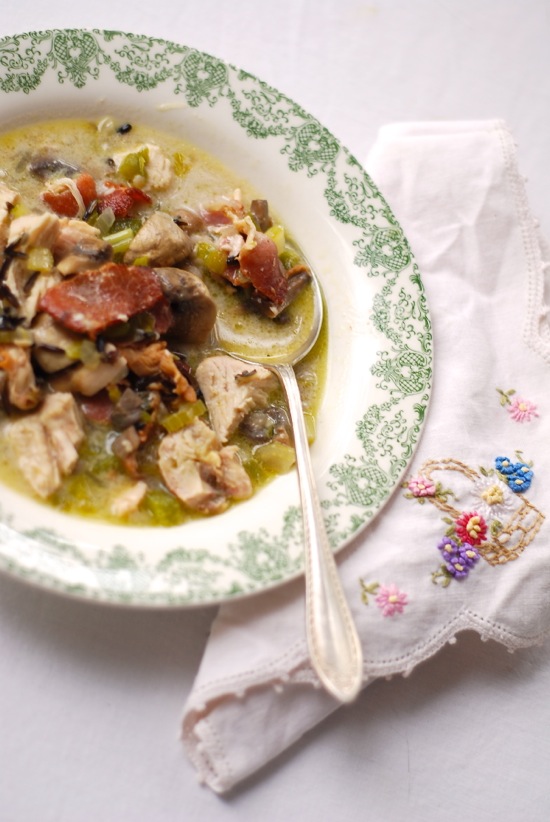 My friend Bonnie, author of "Tasty Recipes from the Sister's Kitchen," is the Soup Goddess. Much like the "Soup Nazi" but nicer 😉 I use to work with her in her beautiful tea room, and I have never met a more talented soup chef. Her soup recipes are the very best.
This is one of my favorite soups. I've changed the recipe a little because I believe there is no recipe that exists that can't be improved with a cup of wine. I increased the bacon drippings and vegetables a little, and added some chicken….but there is no question, this recipe wouldn't be possible without the soup making genius of my friend Bonnie, the Soup Goddess.
~Soup Goddess Creamy Chicken & Wild Rice Soup~
1 cup wild rice
1 pound bacon
5 Tablespoons bacon drippings
4 boneless, skinless chicken breasts
1 cup dry white wine
1/4 cup extra virgin olive oil
2 stalks celery + celery greens, chopped
1 onion, chopped
1-2 teaspoons minced garlic
1 green pepper, chopped
32 oz chicken broth
2- 26 oz cans cream of mushroom soup
12 oz fresh mushrooms,chopped
Wash wild rice. Boil rice for 15 minutes. Drain. Set aside. Fry bacon until crisp. Remove bacon and chop. Set bacon aside. Discard all but 5 Tablespoons drippings. In a separate frying pan, thoroughly cook 4 small boneless, skinless chicken breasts in 1 cup white wine and 1/4 cup extra virgin olive oil. Place the bacon drippings in a large stock pot and heat. Saute celery, green pepper and onion in the bacon drippings until onion is tender and transparent. Add garlic and cook an additional minute. Add rice, broth, mushrooms, mushroom soup, diced bacon and chicken + juices and wine. Combine everything and cook over very low heat for one hour. DO NOT BOIL. Serve in wide, shallow bowls with silver soup spoons…This is especially good with crusty, buttery French bread.
Enjoy!
~Melissa
You may enjoy these related posts: