Print Friendly Version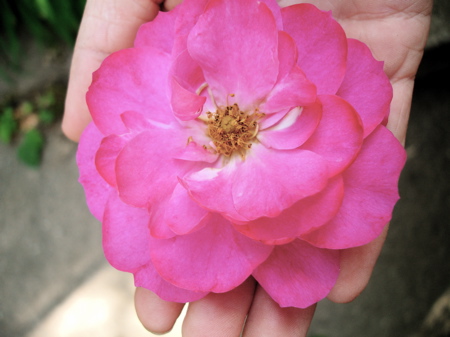 The roses are in full bloom at our house, and they are so gorgeous this year. The rose wall is sixteen feet and continuing to climb up the pine tree like mad! The front arbor is as tall and full as I've ever seen it. Neighbors pass by when I'm our watering the hanging baskets and can't resist commenting on the blooms. This morning the exclamation was "beautiful!" Yes, I love my roses.
I decided to create a recipe for rose petal cream scones this year, and they turned out really good. This recipe makes about 10 scones and could easily be doubled. They would be the perfect addition to an afternoon tea, garden party or brunch table.
to make the scones you'll need:
2 and 1/4 cup all-purpose flour
2 teaspoons baking powder
1/2 teaspoon baking soda
1 teaspoon salt
1/2 stick unsalted butter
1 cup heavy cream
2 teaspoons rose water
1/4 cup pesticide-free rose petals
for the icing:
1 cup powdered sugar
2 teaspoons rose water
2-3 Tablespoons heavy cream or milk
Preheat oven to 425 degrees F.
In a large mixing bowl,
sift the flour, baking powder, soda and salt…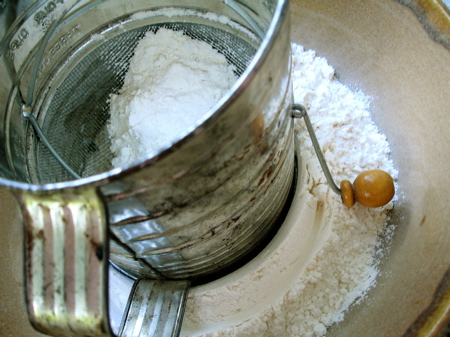 using your hands, mix butter into flour mixture
until it resembles a course meal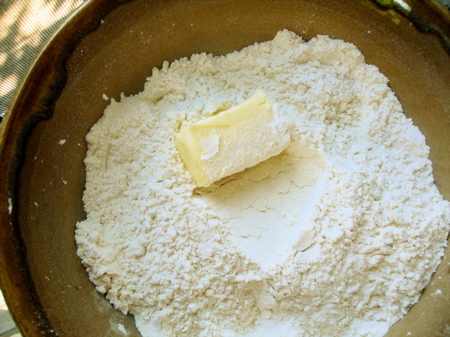 In a small bowl,
combine cream, rose water and rose petals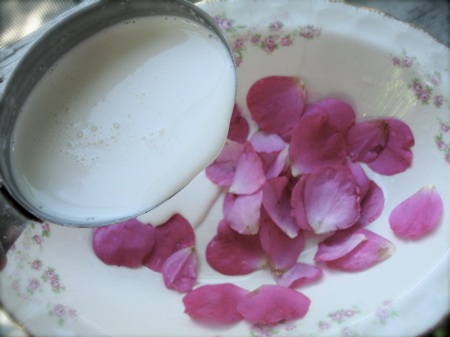 Add to the flour mixture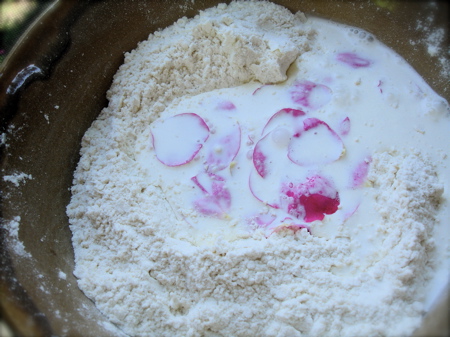 add a little more cream if needed
the dough should just stick together and be slightly dry
don't over-mix or your scones will be tough.
Turn dough out onto a lightly floured surface.
Pat to about 1 and 1/2 inch thickness.
Cut out scones using a biscuit cutter.
Place on an ungreased baking sheet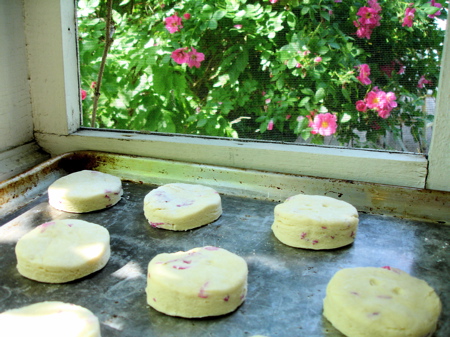 Bake 10-14 minutes, or until lightly browned.
Transfer scones to a wire rack to cool a bit.
In a small bowl, whisk the
powdered sugar, rose water and cream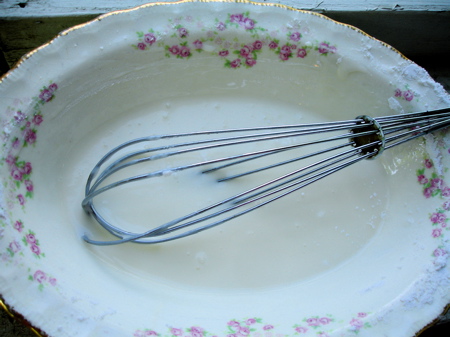 Drizzle icing over scones while they're slightly warm.
Garnish with clean, pesticide-free rose petals.
Serve.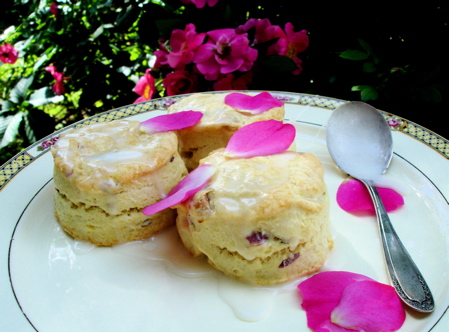 note:
Depending on the kind of rose water you're using, the rose flavor can vary.  I used a very strong rose water from Lebanon. Before using the full amount of rose water, you may want to do a little taste test. You don't want to overpower the scones with too much "rosiness."
Enjoy!
~Melissa
You may enjoy these related posts: