Print Friendly Version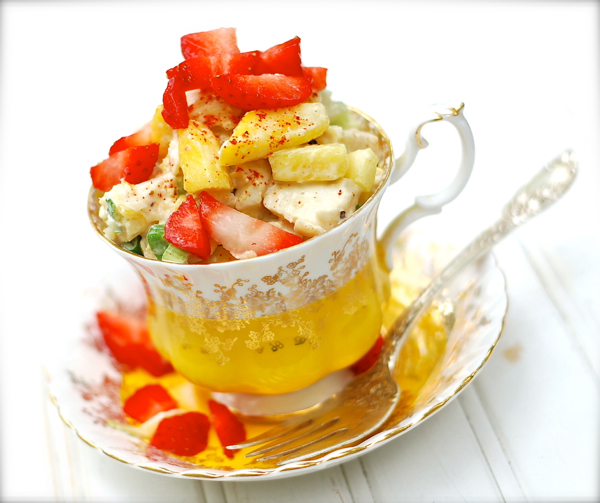 One of my favorite tearoom delicacies! I made this salad for a light dinner last night and decided to snap a picture while I was at it. This is a tropical delight that is sure to conjure up memories of tropical islands and summer. Enjoy!
~Mango Tango Chicken Salad~
In a large mixing bowl, combine salad ingredients:

4 large cooked boneless, skinless chicken breasts (cubed and cooled completely)
1 large, perfectly ripe mango, peeled and cubed
1 cup fresh, chopped pineapple
2 sticks chopped celery
8 oz. water chestnuts, drained and chopped
4 sliced green onions + green tops
chopped, fresh strawberries (for garnish)
In a small mixing bowl, combine dressing ingredients:

1/4 cup mango chutney (I use Major Grey's)
1/4 cup real mayonnaise
2 Tablespoons fresh lemon juice
1 Tablespoon fresh, minced ginger
1/4 teaspoon freshly ground black pepper
1/4 teaspoon salt
a couple dashes of cayenne pepper
1/2 mild jalapeno pepper, seeds removed, and minced fine
Toss chicken chunks with mango, water chestnuts, pineapple, celery and green onion. Combine the chutney, mayonnaise, lemon juice, ginger, jalapeno pepper, salt and cayenne with a wire whisk until completely combined. Add the chutney mixture to the chicken mixture, folding gently. Chill until ready to serve.
Enjoy!
~Melissa
You may enjoy these related posts: