Print Friendly Version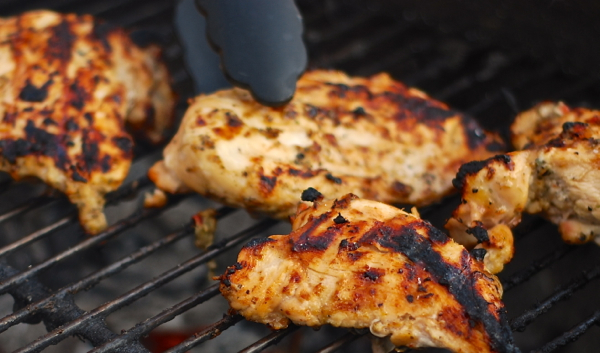 It's a lovely, sunny day in the Mississippi river valley. I walked up to one of my favorite antique stores and found a pile of lovely bowls for an upcoming tea party photo shoot. Excited about that! I also stopped off at the local co-op and picked up some Minnesota Montrachet, baguette, figs, fresh thyme, fresh parsley and pine nuts for a couple appetizers I'm making for date night on the deck this evening.
We have all sorts of fun things planned for this weekend. I'm so excited to be able to spend time with Jeff and both of my darling daughters at the same time! I'll be sure to take photos. I bet you already knew that. When do I not take photos? hee hee…
Have you been grilling a lot now that spring has sprung? We certainly have! One of my favorite warm weather simple pleasures! Here's my new favorite way to make chicken on the grill. It really is delicious and so easy. I think you're going to enjoy this one.
4 large boneless skinless chicken breasts, fresh or thawed
7 oz. Italian dressing or white balsamic vinaigrette (NOT low fat…preferably homemade.)
1/2 cup dry white wine
3 Tablespoons honey or sugar
1/4 cup chopped fresh herbs (I used basil, oregano and thyme)
1 teaspoon freshly ground black pepper
1 teaspoon garlic powder
1 teaspoon onion powder
1 teaspoon paprika
Place chicken breasts in a large, heavy duty ziploc bag. Mix the rest of the ingredients in a bowl using a wire whisk until thoroughly combined. Pour the marinade into the ziploc with the chicken. Close bag and gently squish the marinade around the chicken. Place the bag of chicken in a bowl. Refrigerate and allow to marinate for 2 to 24 hours before grilling.
Grill over coals for about 4 minutes per side, or until done on both sides and juices run completely clear and are no longer pink.
Enjoy!
~Melissa
You may enjoy these related posts: