Print Friendly Version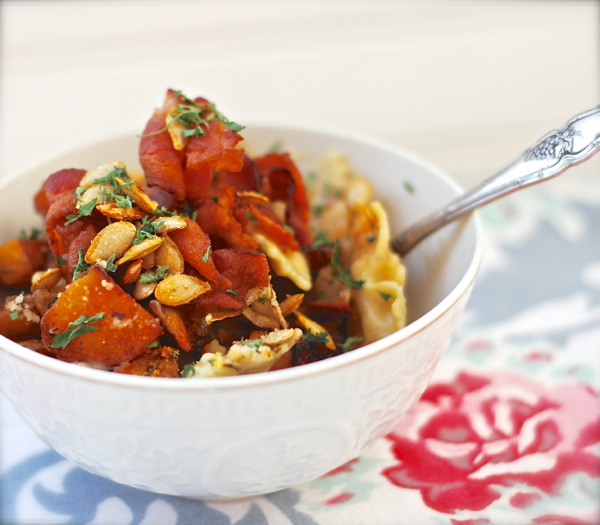 It's cold and rainy here today…. Time for something warm and comforting for dinner. How about another "bowl" recipe? This one features butternut squash, bits of bacon and bowtie pasta. It's a wonderful way to get your kids to eat veggies. We love the smoky saltiness of the bacon and the little, crunchy pepitas sprinkled on top.
preheat oven to 425 degrees F.
1 lb. bacon
1/2 of a medium size butternut squash
1 teaspoon salt
1 teaspoon dry thyme (or 2 teaspoons fresh)
1 teaspoon dry basil
1 teaspoon garlic powder
1 teaspoon freshly ground black pepper
3 Tablespoons olive oil
3 Tablespoons brown sugar
2 Tablespoons balsamic vinegar
1/2 teaspoon cinnamon
1 teaspoon smoked paprika
1 small chopped onion
10 oz. cooked bowtie pasta
1/3 cup all-purpose flour
3 Tablespoons butter
1 and 1/3 cups milk
3 cups shredded cheddar or Monterey Jack cheese
1/2 cup grated Parmesan cheese
freshly chopped parsley
toasted pepitas (optional)
Mix salt, thyme, basil, garlic powder and pepper in a large mixing bowl. Add the olive oil, brown sugar and vinegar to the spices and whisk until evenly combined. Peel the butternut squash, set seeds aside (you can bake them in the oven with a little salt and pepper sprinkled over until they're crispy if you'd like to use them as a topping for this dish), and cut the squash into one inch cubes. Place the squash in the spice/vinegar mixture and toss until evenly coated. Pour the squash mixture into a shallow baking pan. Sprinkle with the cinnamon and smoked paprika. Place the pan in preheated oven and bake for about 45 minutes (or until the squash is tender and slightly browned, but not mushy.)
Increase oven temperature to 450 degrees F.
Fry bacon until crispy. Remove from grease, set aside until cool, and crumble. Save 1 Tablespoon of the grease for sauteing the onion. (Saute onion until tender and a little bit browned.)
Mix the flour and salt in the bottom of a Dutch oven. Add the butter and whisk constantly over medium-low heat until the mixture is a light amber color (add a little more butter if needed). Add milk and whisk until slightly thickened and smooth. Remove from heat. Add the shredded cheddar. Mix until smooth. Add the cooked pasta to the cheese mixture and stir to coat evenly.
Spread the pasta mixture into the bottom of a lightly oiled casserole pan. Top evenly with the roasted squash. Sprinkle with the fried onion and Parmesan cheese. Bake for 10 minutes in the 450 oven.
Place individual servings in dinner bowls, top each serving with a little freshly chopped parsley, a little bacon and a sprinkle of toasted pepitas.
Enjoy!
~Melissa
You may enjoy these related posts: