Print Friendly Version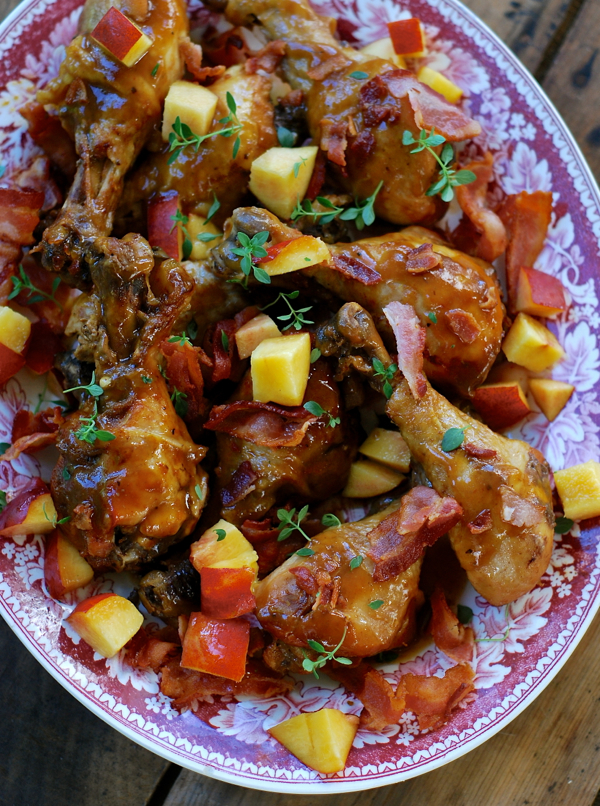 Making a delicious dish in the slow cooker is easy, and when done correctly, so satisfying!
You can spend a little extra time browning your chicken prior to placing it in the slow cooker, if you like. It does add an extra layer of flavor to this dish. But, if you're in a hurry, don't worry about it. It's excellent without adding the extra step. I've made this both ways, and when I opted to brown the meat first, I did it in the skillet drippings left over from cooking the bacon. Just a minute or two on each side will do the trick!
This was wonderful with Parmesan Herb Roasted Potatoes (recipe coming soon!) We started our meal with a simple salad made up of spring greens and other garden veggies in a basic French vinaigrette. So good!
1 lb. bacon, fried until crispy (drippings reserved if browning chicken first)
12 chicken drumsticks, (or other bone-in, skin-on chicken pieces)
1 cup peach preserves (I used Bonnie Maman)
1 cup sweet, smoky BBQ sauce (I used Heinz Classic Sweet & Thick)
2 shots bourbon, divided
2 teaspoons onion powder
1 teaspoon garlic powder
3 Tablespoons Worcestershire sauce
1/4 cup cornstarch
1/4 cup cold chicken stock OR water
3 large, fresh, ripe peaches, pit removed, cubed
fresh lemon thyme for garnish
If chicken is frozen, thaw completely and blot dry, using paper towels.
Fry bacon until crispy. Place cooked bacon on a paper towel-lined plate and set aside. If browning the chicken first, heat bacon grease and place the chicken pieces in hot grease, 3 or 4 at a time so the pan isn't crowded and the drumsticks have room to brown. Fry for 2 to 3 minutes on each side, or until a light, golden brown. Transfer to a 7 quart slow cooker.
If you don't feel like browning your chicken first, just place it in the slow cooker.
In a medium mixing bowl, combine: peach preserves, BBQ sauce, 1 shot of the bourbon, onion powder, garlic powder, and Worcestershire sauce. Mix well, using a wire whisk, until smooth.
Pour sauce over chicken pieces in slow cooker. Carefully toss chicken pieces so everything is coated with the sauce.
Set slow cooker on HIGH and cook for 4 to 5 hours, or just until chicken is very hot, completely cooked and tender, but not falling off the bone. Once chicken is done, transfer it to a parchment-lined baking sheet and broil for 2 to 3 minutes per side, watching closely so it doesn't burn. If you want to omit this step, feel free. Just remove the chicken and place it on a platter while you thicken the sauce in the slow cooker.
To thicken the sauce: Add the remaining shot of bourbon. Mix well. In a small bowl, combine the cold stock/water and cornstarch. Whisk until mixed well. Slowly add to slow cooker and whisk until well combined. Keep slow cooker on HIGH with lid askew and allow sauce to simmer and boil until it reaches desired consistency. Stir occasionally during this process.
Place chicken back in hot sauce. Set to the WARM setting until ready to eat.
To serve: Place chicken on pretty platter. Drizzle with some of the sauce. Garnish with peach chunks, crumbled bacon, and fresh thyme sprigs.
Enjoy!
~Melissa
You may enjoy these related posts: