Print Friendly Version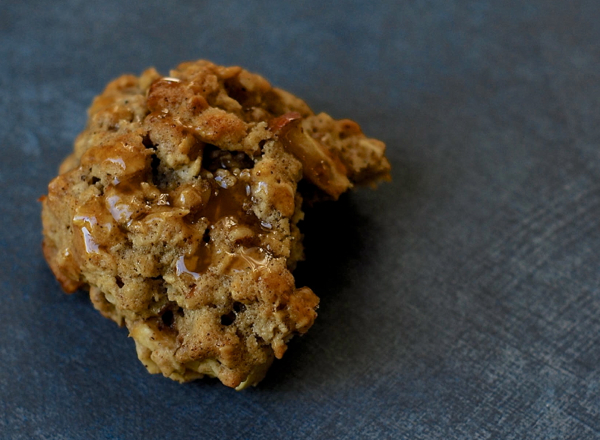 We've been out and about today, having so much fun celebrating our anniversary. I just got a few free minutes, so I decided to check in and quickly share this recipe that has you all so excited! I've been getting requests for it ever since I shared the photos a couple days ago on my Facebook page.
These turned out sooooo good. They're slightly spicy, super chewy, and the caramel apple element makes them a fun, different twist on the classic oatmeal cookie. They're a perfect autumn treat!
1 cup butter or coconut oil, softened
1 and 1/2 cups brown sugar, packed
2 large eggs, lightly beaten
1 teaspoon bourbon vanilla (I use Trader Joe's)
1 and 1/2 cups all-purpose flour
2 teaspoons cinnamon
1/2 teaspoon nutmeg
1 teaspoon baking soda
1/2 teaspoon salt
3 cups old fashioned rolled oats (not quick-cooking)
1/2 cup pecans, coarsely chopped
1/2 of a red (sweet) apple, unpeeled and chopped
1/2 of a green (tart) apple, unpeeled and chopped
caramel sauce for drizzling
In a large mixing bowl, cream the butter/oil and brown sugar until light and fluffy. Beat in eggs and vanilla until smooth.
In a separate mixing bowl, combine the flour, cinnamon, nutmeg, soda and salt. Mix well. Add the creamed mixture to the dry ingredients. Mix until all ingredients are well incorporated. Stir in the oats, pecans and apple chunks.
Drop by rounded Tablespoonfuls, 2 inches apart, on ungreased cookie sheets. Bake 10 to 12 minutes at 325 degrees F, until golden brown and set. Remove from oven and allow to cool on the cookie sheets for one minute. Transfer cookies to cooling racks to cool completely before drizzling with the caramel sauce and serving.
Keep in a air-tight container, in a cool, dry place, unrefrigerated for up to 4 days. (These freeze beautifully, just don't drizzle them with caramel until you thaw them out.)
Enjoy!
~Melissa
You may enjoy these related posts: