Print Friendly Version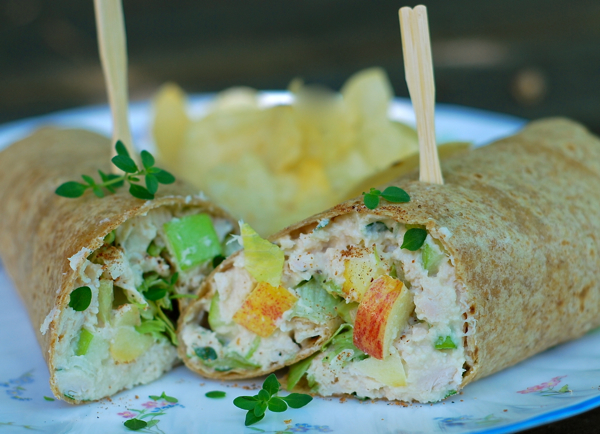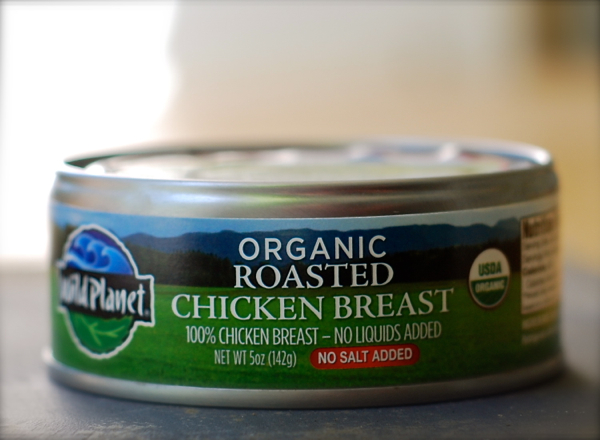 I've partnered with one of my favorite companies! Wild Planet makes the very best quality canned fish and chicken, and I am beyond thrilled that they've become a sponsor of Chin Deep. I'm having so much fun creating recipes with their wonderful products. It's so great to work with a company I believe in. Find out more about their products by checking out their website, HERE.
So far I've made a delicious Skipjack Tuna Roll using their Wild Skipjack Tuna, and we were amazed at the quality and flavor of this product!
Today I made lunch for me, my hubby, and daughters. I decided chicken wraps would be just the thing. I was in the mood for something fresh, slightly sweet, creamy, and crunchy. Just wait until you try this!
for 4 sandwich wraps:
4 large whole grain sandwich wraps OR flour tortillas (burrito size)
3 cans Wild Planet Organic Roasted Chicken Breast, drained well
1 green apple, unpeeled and chopped
1 red apple, unpeeled and chopped
2 green onions, sliced thin (including green tops)
1/4 cup finely chopped celery
2 Tablespoons fresh thyme leaves (I used lemon thyme)
1/2 cup real mayonnaise
1 Tablespoon Dijon mustard
1 Tablespoon brown sugar OR honey
1 Tablespoon red wine vinegar OR white wine vinegar
sea salt, to taste
freshly ground black pepper, to taste
nutmeg, to taste
1 cup shredded iceberg lettuce OR romaine lettuce
Place wraps on each of 4 plates.
Place drained chicken breast in a large mixing bowl and break it up with a fork. Add: apples, onions, celery, and thyme. Mix well.
In a small bowl, combine: mayonnaise, mustard, brown sugar/honey, and vinegar. Using a whisk, mix until smooth. Pour over chicken mixture in large mixing bowl. Mix until everything is evenly combined. Season to taste with the salt, pepper, and nutmeg.
Divide chicken salad mixture between the 4 sandwich wraps/tortillas. Sprinkle each with approximately 1/4 cup of the shredded lettuce. Wrap up tightly, cut in half on the diagonal,  and secure with sandwich picks, or toothpicks. Serve with your favorite chips.
Enjoy!
~Melissa
You may enjoy these related posts: