Print Friendly Version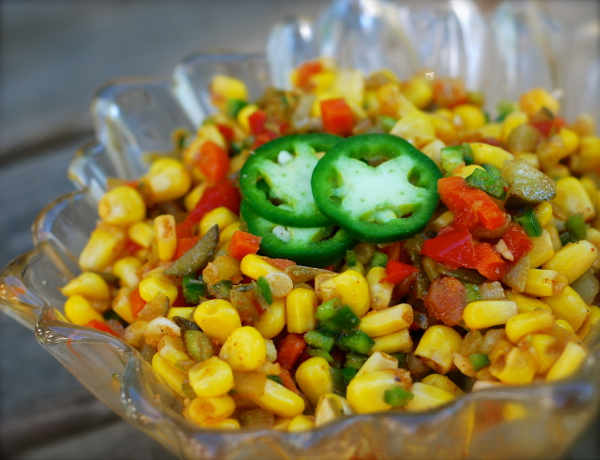 I made tacos for dinner tonight. Again, because I love them so. At the last minute I decided to whip up a batch of my easy refrigerator corn relish to go with them. This might be considered corn salsa in some circles. Especially if you add a bit of chopped cilantro. This time I didn't have any on hand, but it is good that way too, if cilantro is your thing.
The combination of spicy ground turkey taco meat, toasted corn tortillas, fresh, sweet-vinegary, corn salsa, yellow heirloom tomatoes, chevre, and sriracha was totally amazing. Jeff said he could eat these tacos every day. I think we have a winner.
This relish isn't just for tacos. Serve it as a chip dip, as a topping for chili, on hot dogs, or in wrap sandwiches!
1 (15 oz.) can sweet corn, drained well (or 1 cup fresh or frozen corn, steamed and cooled)
2 medium, whole dill OR sweet pickles, chopped
3 Tablespoons pickle juice from the pickle jar
1/4 cup pickled veggies (I used a combination of red bell pepper and carrots)
2 green onions, sliced thin (including green tops)
1 Tablespoon olive oil
1 Tablespoon fresh lime OR lemon juice
1 teaspoon garlic powder
1 teaspoon onion powder
1 teaspoon mild chili powder
2 dashes cayenne pepper
2 Tablespoons sugar (I used coconut sugar)
1 jalapeno pepper, stem and seeds removed, chopped fine
chopped fresh cilantro, to taste (optional)
Mix everything together in a mixing bowl until well combined. Transfer to a pretty serving bowl if serving right away, or place it in a canning jar with a tight fitting lid and refrigerate until ready to use. This can be stored, covered, in refrigerator, for up to two weeks.
Enjoy!
~Melissa
You may enjoy these related posts: