Print Friendly Version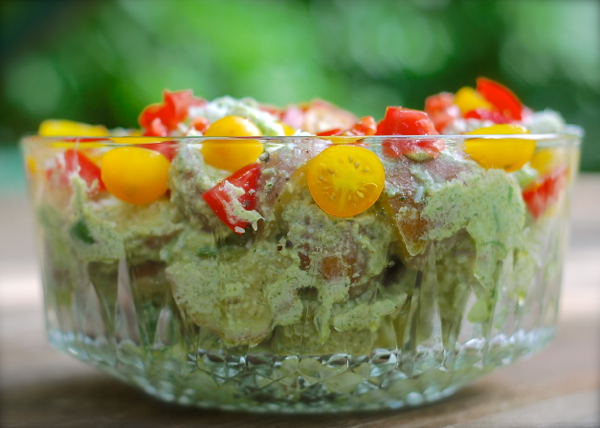 Last night the hubby prepared delicious, grilled lemon chicken while I made this awesome potato salad to go with it. I had a specific idea in mind when creating a pesto potato salad, and I think it came out just right! Creamy pesto with tender, baby bliss potatoes. The flavors of fresh herbs and tomatoes brighten the salad and make it the quintessential summer dish! I hope you love it as much as we do!
2 and 1/2 lb. baby bliss potatoes, unpeeled
1 large stalk celery, leaves removed, chopped
5 green onions, sliced (including green tops)
1 cup fresh basil pesto
1/2 cup real mayonnaise
1/2 cup fresh tomatoes, cut into little chunks
sea salt and freshly ground black pepper, to taste
freshly grated Parmesan cheese for garnish
Scrub potatoes and cut them into halves or quarters. You want the pieces to be bite size and uniform so they all cook evenly. Place potato pieces in a big pot of water. Bring water to boil and cook for 8 to 12 minutes. You want the potatoes to be tender (not crunchy, and not mushy.) Once done, remove from heat and drain well. Allow potatoes to cool completely before you finish making the salad.
Once potatoes are completely cool, add the celery, onions, pesto, and mayonnaise. Mix gently until everything is evenly coated with the pesto dressing. Add salt and pepper, to taste. Chill until ready to serve.
Just before serving, top with the tomatoes and fresh Parmesan cheese.
Enjoy!
~Melissa
You may enjoy these related posts: