Print Friendly Version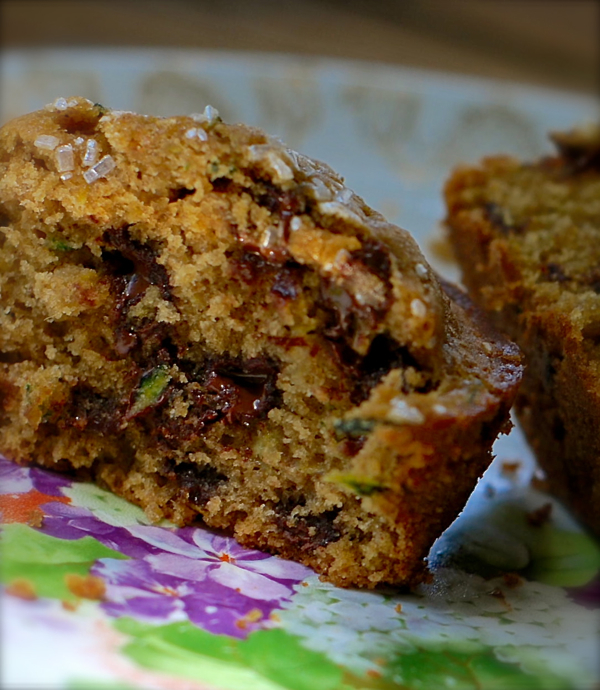 It's another hot, steamy day out there today. We went for a hike on the Cannon Valley trail and then had some lunch at the Red Wing Brewery. BEST. PIZZA. EVER!
Now we're relaxing in the AC, sipping wine and planning tomorrow's outing. Maiden Rock Swimming Hole here we come!
Tonight we're grilling up some chicken and chilling it. I'm creating a new picnic "in a jar" recipe for us to pack in our cooler tomorrow so we can picnic after we're done swimming. Stay tuned, this one is going to rock.
Here's a recipe that Gracie and I developed together. These are quite healthy if you use real, pure maple syrup for your sweetener. They're SO chocolaty and good. We were going to add 8 oz. of chocolate chips and decided to just dump in the whole bag. Good call, I must say.
Oh! Don't eat these cold. We insist you devour some straight out of the oven and that you re-heat individual muffins for 15 seconds in the microwave. Gluten free baked goods are fickle and tend to taste dry at room temperature. You don't want to end up with, well, dusty muffins. Yup. I said it. 😉
~ preheat oven to 325 degrees F. ~
Yield: 24 muffins
3 cups gluten free all purpose flour
1 teaspoon xanthan gum (omit if your gluten free flour already contains it)
1 teaspoon sea salt
1 teaspoon baking soda
1 teaspoon baking powder
2 teaspoons cinnamon
1 cup pure maple syrup OR sugar
1/4 cup molasses
2 and 1/2 cups grated zucchini
3 large eggs, lightly beaten
1 ripe banana, mashed
1/2 cup light olive oil
2 teaspoons pure vanilla extract
12 oz. dark chocolate or semi-sweet chocolate chips
1 Tablespoon cornstarch
Generously oil 24 muffin cups with olive oil.
In a large mixing bowl, combine: flour, xanthan gum, sea salt, soda, baking powder and cinnamon. Mix well using a wire whisk. Set aside.
In another large mixing bowl, combine: maple syrup/sugar, molasses, zucchini, eggs, banana, olive oil and vanilla. Mix all until well combined. Add dry mixture to wet mixture, stir just until combined and everything is moistened. Don't over mix. Fold in chocolate chips and cornstarch.
Fill each muffin cup 3/4 full with batter. Bake for 20 minutes or just until muffins spring back when touched in the middle. Don't over bake.
Cool for 30 minutes in baking pans. Remove from tins and cool completely on racks before serving. Store in an air tight container for up to 5 days.
Enjoy!
~Melissa
You may enjoy these related posts: