Print Friendly Version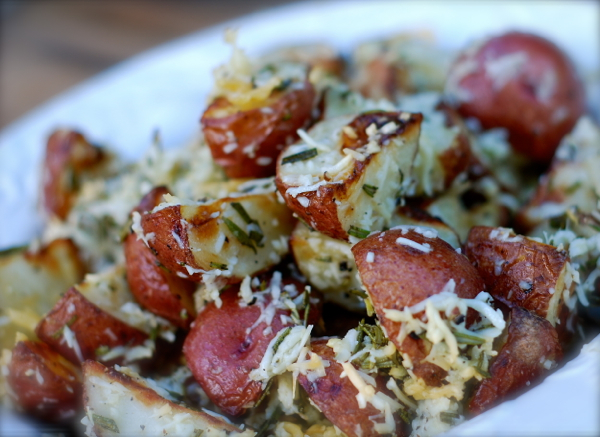 Here's how I oven roast potatoes so they come out delicious and crispy every time! These are excellent with anything grilled.
~ preheat oven to 400 degrees F. ~
2 to 3 lb. small red potatoes
1/3 cup light olive oil
4 oz. freshly grated Parmesan cheese OR asiago
1 large clove garlic, minced
2 Tablespoons finely chopped fresh herbs
sea salt, to taste
freshly ground black pepper, to taste
Wash potatoes well. Cut into uniform, bite size pieces. Blot potato pieces dry, using paper towels. Place potatoes in a large mixing bowl. Pour olive oil over and mix until all pieces are well coated. Add salt and pepper. Mix again.
Place Parmesan, garlic and herbs in the large mixing bowl. If there's still some olive oil in the bottom of the bowl, mix that in too. (For the herbs I like a mixture of rosemary, thyme, and parsley.)
Place potatoes, cut side up, on a wire rack that is set on top of a rimmed baking sheet. Place in preheated oven and roast for approximately 25 minutes, or until potatoes are tender and beginning to turn golden. Remove potatoes from oven at this point and toss them in the cheese-herb mixture until well coated. Remove wire rack from baking sheet and line it with a piece of cooking parchment. Place coated potatoes in an even layer on the baking sheet. Return to oven and bake for 10 to 12 minutes, or until toasty brown and cheese is beginning to turn golden. Serve.
Enjoy!
~Melissa
You may enjoy these related posts: