Print Friendly Version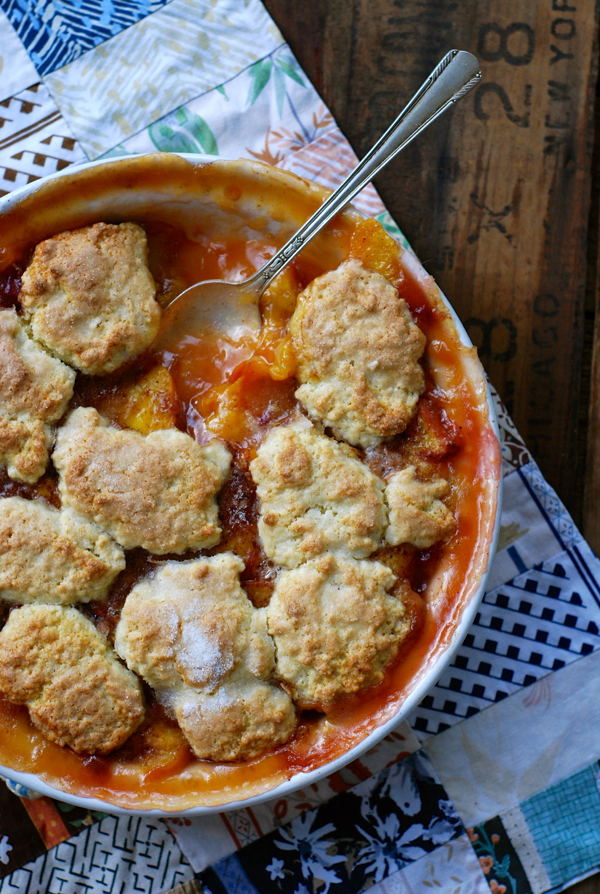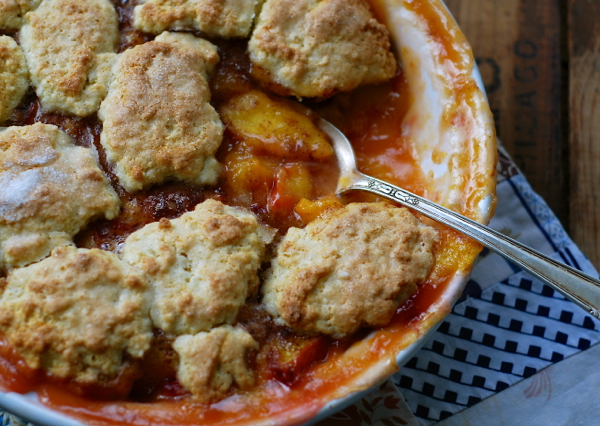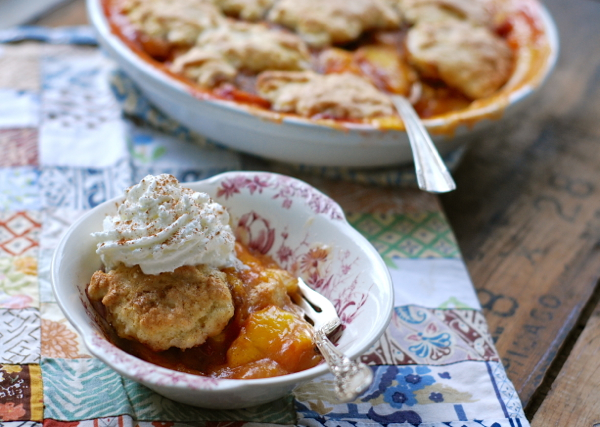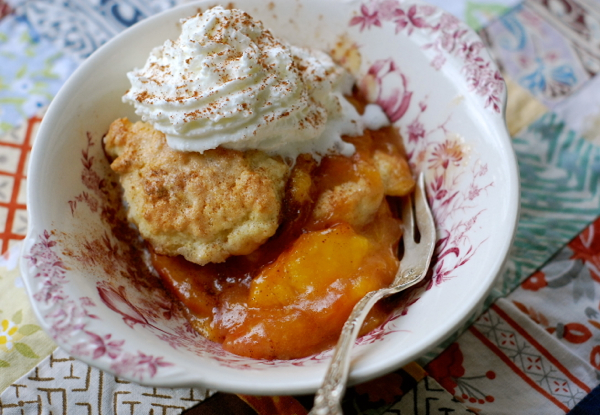 These beautiful peaches were on sale at the local market and I just had to get a bunch to make cobbler. Perfectly ripe and sweet and begging to be made into a decadent, summer dessert.
I've always been partial to spiced peaches. Like the kind grandma used to make and put up in her pantry. I like pears the same way. So, whenever I get the chance to transform a peach dessert into something spiced, that's what I do. Some of my other favorite spiced peach desserts include: spiced peach pie, and spiced peach Jell-O "salad." There's just something about those aromatic spices that completely brighten the flavor of peaches and take them to a whole new level.
This dessert is easy and beautiful served with a drizzle of heavy cream over it. Other delicious toppings would be a dollop of sweetened whipped cream, or a scoop of the best quality vanilla ice cream you can find.
~ preheat oven to 400 degrees F. ~
for the fruit filling:
3/4 cup sugar
1/4 cup all purpose flour
5 heaping cups ripe, sliced peaches, unpeeled, pits discarded
2 Tablespoons fresh lemon juice
a light sprinkle of each of these: cinnamon, cloves, nutmeg, and ginger
Mix everything together in a large mixing bowl until all of the fruit is evenly coated with the flour mixture. Transfer to a saucepan. Heat to boiling, stirring gently. Once boiling, reduce heat and simmer until slightly thickened (about 1 minute.)
Scrape filling into a lightly buttered, glass pie plate using a rubber spatula. Set aside.
for the cobbler topping:
1 cup all purpose flour
1 Tablespoon sugar
1 and 1/2 teaspoons baking powder
1/4 teaspoon salt
1/4 cup unsalted butter, softened to room temperature
1 large egg, lightly beaten
1/4 cup whole milk
2 Tablespoons sugar, for topping
In a large mixing bowl, combine: flour, 1 Tablespoon sugar, baking powder, and salt. Mix well. Add butter and mix until coarse crumbs form (I use my fingers for this.) Make a well in the center of the crumbs in the bowl. Add the egg and milk. Mix into the crumb mixture just until evenly moistened. Drop by Tablespoonfuls all over the top of the fruit filling. Sprinkle the remaining 2 Tablespoons of sugar over the top.
Place over foil in preheated oven, just in case any of the filling bubbles over and drips out of the pie plate. Bake for 20 to 30 minutes or until very hot all the way through and bubbly and biscuits are golden brown and completely set.
Cool a bit before serving with desired toppings.
Enjoy!
~Melissa
You may enjoy these related posts: