Print Friendly Version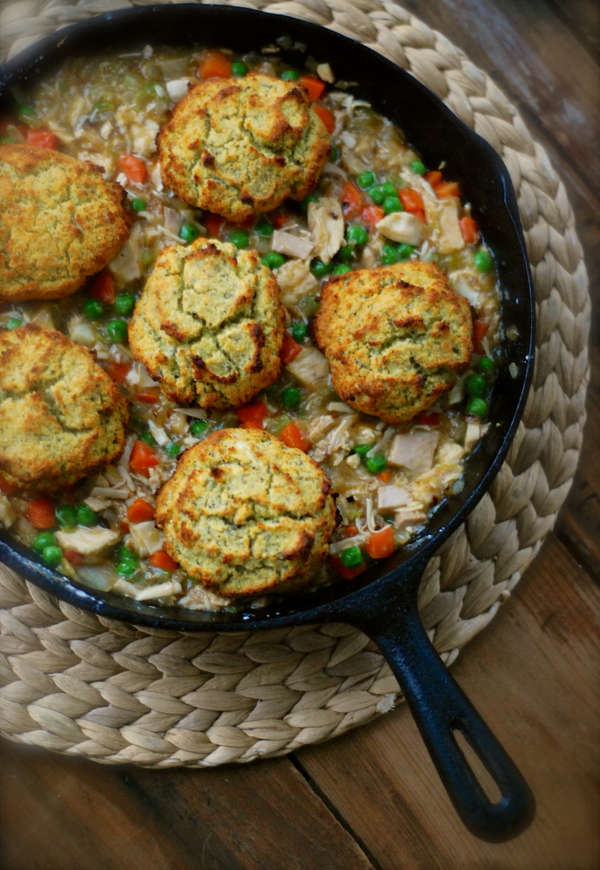 I couldn't believe how easy and fast this delicious comfort food meal came together. It takes about 20 minutes from start to finish and you can make the pot pie filling while the biscuits bake in the oven. If you want to just make a classic version of this recipe, substitute cornstarch for the tapioca starch, add 1/3 cup of half and half when you add the chicken stock, and make up a batch of your favorite, old fashioned baking powder biscuits. The recipe below is completely paleo and yummy as well as healthy. This recipe serves 4 to 6 people.
To make the biscuits:
~ makes 6 biscuits ~
~ preheat oven to 400 degrees F. ~
4 large eggs
1/4 teaspoon baking soda
1/2 teaspoon cream of tartar
1/2 teaspoon salt
1/2 cup coconut flour
1 Tablespoon dry Italian seasoning
1 teaspoon garlic powder
1 teaspoon onion powder
1/2 teaspoon finely ground black pepper
4 Tablespoons grass fed butter, room temperature
In a large bowl, whisk eggs until light and frothy. Add baking soda, cream of tartar and salt. Mix in and allow to sit for 5 minutes.
In a separate bowl, combine the flour, Italian seasoning, garlic powder, onion powder and pepper. Cut the butter into the flour mixture, using your hands or a pastry blender. Mix just until coarse crumbs form.
Add flour mixture to egg mixture and, using a fork, break up the flour clumps. Mix until smooth and mixture begins to thicken. Mixture will seem a bit watery for biscuits, don't worry, they'll turn out great!
Line a baking sheet with cooking parchment. Scoop 6 biscuits onto baking sheet, 2 inches apart, using a 1/4 cup measuring cup.
Place baking sheet in oven and bake for 10 to 15 minutes, or until biscuits are a light golden brown and a toothpick inserted into the center of a biscuit comes clean.
While biscuits are baking, make the pot pie filling:
2 Tablespoons olive oil
1 Tablespoon grass fed butter
1 onion, chopped
2 sticks of celery, chopped
3 cups chopped, cooked turkey, chicken or beef
1 and 1/2 cups chicken stock
2 cups frozen peas and carrots, thawed
1/3 cup tapioca starch
1/4 teaspoon salt
Heat the olive oil and butter in a 10 to 12 inch skillet. Once hot, add the onion and celery. Saute for 5 to 10 minutes, or until light golden brown and tender. Add turkey meat (or whatever meat you're using.) Add chicken stock. Lower heat. Cook until stock is gently simmering. Add peas and carrots along with the tapioca starch and salt. Stir and cook until heated through and thickened. You may need to add a little more chicken stock, 1 Tablespoon at a time, to the mixture if it becomes too thick.
Place baked biscuits on top of hot pot pie filling and serve.
Enjoy!
~Melissa
You may enjoy these related posts: