Print Friendly Version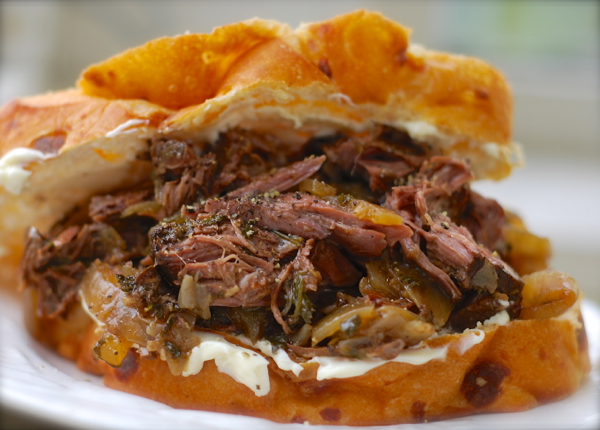 Are you craving a big, juicy, beef sandwich with tons of flavor? Then you've come to the right place. I make this easy, delicious, beef in my slow cooker and everyone loves it. This time I piled it high on my homemade cheddar bread. The only embellishment was mayonnaise and a little spicy mustard. Ohmygosh. SO easy and so good!
~ makes 10 to 12 sandwiches ~
4 lb. boneless beef chuck roast, trimmed of excess fat
1/4 cup flour
2 teaspoons sea salt or kosher salt
1 teaspoon freshly ground black pepper
2 Tablespoons instant coffee
2 to 3 Tablespoons olive oil
4 large cloves garlic, minced
1/4 cup tomato paste
1 (12 oz.) bottle stout beer
12 oz. beef stock or broth
2 Tablespoons fresh thyme leaves (or 1 Tablespoon dry)
2 large onions, sliced
1 Tablespoon vinegar (I used balsamic)
2 Tablespoons cornstarch
cheddar bread OR sandwich buns
mayonnaise and spicy mustard
Mix flour, salt, pepper, and dry instant coffee.
Rub roast all over with flour mixture. Heat olive oil in large skillet. Brown roast 3 to 5 minutes on each side. Transfer to a 6 to 8 quart slow cooker/ Crock Pot. Reserve drippings in skillet.
To the drippings, add the minced garlic. Cook for 1 minute. Add tomato paste, beer, stock, and thyme. Scrape up brown bits from bottom of skillet. Then whisk constantly until mixture comes to a boil. Stir until liquid reduces to approximately 3 cups. Pour over roast. Top with sliced onions. Cover slow cooker and cook on the LOW setting for 8 to 10 hours or until roast is fork-tender and shreds easily.
Transfer roast and onions to a platter. Shred. Cover to keep warm.
Transfer the liquid in the slow cooker to a large saucepan and bring to boil. Mix cornstarch with 2 Tablespoons of cold water. Add to boiling liquid in saucepan. Whisk constantly until thickened to desired consistency.
Add beef and a little of the gravy back to the slow cooker. Mix well. Use as a topping for sandwiches. Dip sandwiches in more gravy if you wish.
Enjoy!
~Melissa
You may enjoy these related posts: