Print Friendly Version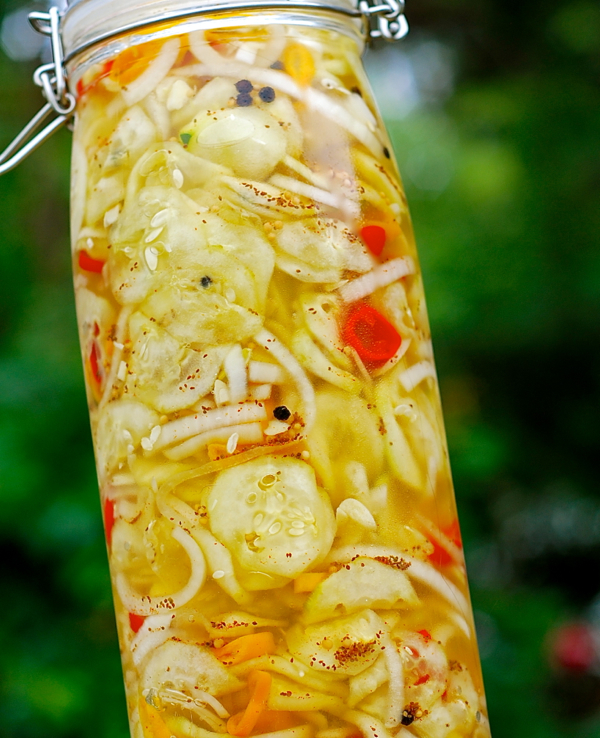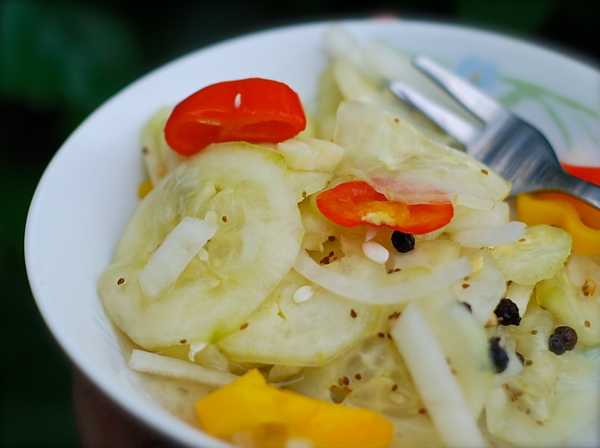 We always have a few jars of different refrigerator pickles in our fridge in the summer! They're so easy to make and are wonderful with salads, sandwiches, as a burger or taco topping, or just as a relish/side dish. Some of our favorites include: traditional, sweet dill refrigerator pickles, refrigerator zucchini pickles, and easy refrigerator dilly beans! None of these recipes require canning. Just make up a jar or two, and store in your refrigerator until you're ready to enjoy them.
Here's my newest refrigerator pickle creation. I was craving, sweet, garlicky, and spicy! These are soooo good!
2 cups white or apple cider vinegar
1 Tablespoon salt
2 cups sugar
1 Tablespoon celery seed
1 Tablespoon black peppercorns
1/2 teaspoon (or more) cayenne pepper
6 large cucumbers, peeled and sliced very thin
15 mini sweet bell peppers, stems and seeds removed, sliced
1 large white or yellow onion, peeled, halved, sliced thin
6 large cloves garlic, chopped
Mix vinegar, salt, sugar, celery seed, black peppercorns, and cayenne pepper in a saucepan. Boil, stirring constantly, until sugar is dissolved. Remove from heat. Cool completely. Slice cucumbers, peppers, and onion into a large glass mixing bowl, or stainless steel bowl. Chop garlic and add this to the cucumber mixture. Pour cooled brine mixture over the vegetables. Stir to combine. Push veggies under liquid and weigh down with a heavy plate or bowl so veggies remain completely immersed. Allow to rest, at room temperature, for 6 hours. Transfer to large, sterilized canning jars. Cover tightly and refrigerate. These will keep for 4 to 6 weeks in the refrigerator.
Enjoy!
~Melissa
You may enjoy these related posts: