Print Friendly Version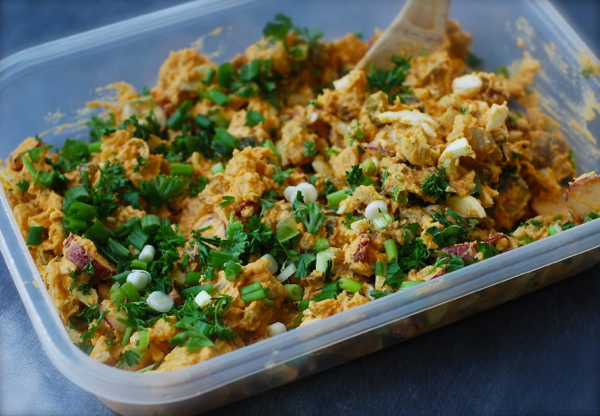 This is an awesome recipe to have when you want picnic potato salad at a moment's notice. I'm not kidding, this is delicious and it's FAST. Ready?
6 medium potatoes, unpeeled
3/4 cup real mayonnaise
1 heaping Tablespoon Dijon or yellow mustard
2 Tablespoons smoked paprika
1 Tablespoon sugar
2 teaspoons white or cider vinegar
1 teaspoon garlic powder
1 teaspoon freshly ground black pepper
Lawry's seasoned salt, to taste
6 green onions, plus green tops, chopped
3 Tablespoons sweet pickle relish
4 large, hard boiled eggs
6 large radishes, washed and sliced
1/4 cup fresh, chopped parsley
Wash potatoes and poke them well with a fork. Place them on a plate and microwave on high, 3 at a time, for 3 to 5 minutes. Flip and microwave on high for an additional 3 to 5 minutes or until soft. Immediately place cooked potatoes in a big bowl of ice water.
Chop onion, eggs and radishes. Place in a big mixing bowl with the mayonnaise, mustard, relish,  smoked paprika, sugar, vinegar, garlic powder, pepper and seasoned salt. Once potatoes are cool, chop them up and add them to the bowl. Mix everything well, spread into a serving dish and top with the parsley. Chill until ready to serve.
Enjoy!
~Melissa
You may enjoy these related posts: