Print Friendly Version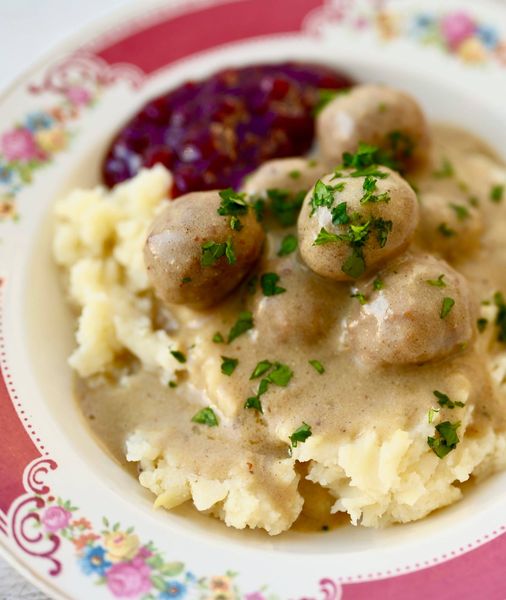 We made Swedish meatballs for Christmas and they turned out so completely amazing I could hardly believe it! I was a little worried that Beyond Meat wouldn't translate to Swedish meatballs, and took another risk by not doing a test run prior to Christmas day. Everyone, including the meat eaters, loved these meatballs! I was overjoyed. You simply must try them.
You could use Impossible Meat in place of the Beyond Meat, if you wish, but there's a bit of a debate going on as to whether Impossible Meat is really vegan or not. What do you think about this? I'd love to hear your opinion. I prefer Beyond, and it's available in the town where I live, so that's what I used.
If you can't find the block of Beyond Meat (that looks like a pound of hamburger,) you can use the pre-formed Beyond Burgers. I needed 2 lb. of Beyond Meat for this recipe, and ended up using 4 packs (8 Burgers) to make my meatballs.
Ready?
for the meatballs:
2 lb. Beyond Meat, thawed to room temperature
1 small onion, chopped fine
1 cup panko bread crumbs
1/4 c. canned coconut milk
1 Tablespoon nutritional yeast
2 teaspoons onion powder
2 teaspoons garlic powder
1/2 teaspoon nutmeg
1/2 teaspoon allspice
approximately 1/2 cup olive oil (for frying)
Making the meatballs: Gather your ingredients. Put bread crumbs in a small bowl and pour the coconut milk over them. Set aside for 5 minutes so the milk can soften the crumbs. Once softened, add them to a large bowl along with the rest of the meatball ingredients (but not the olive oil.) Mix well, using hands, until everything is evenly distributed.
Form one inch balls and set them on plates as you work. Once they're all formed, heat the 1/2 cup olive oil in a nonstick frying pan. Once hot, add meatballs (I did this in three batches.) Cook on medium-high heat. Gently move the pan around, allowing the meatballs to roll around in the hot oil. Fry until all sides are golden brown (approximately 5 minutes.) Transfer back to the plates as you cook. Once they're all done, cover them with foil to keep them warm.
for the gravy:
12 Tablespoons vegan butter (we like organic Earth Balance)
1/2 cup flour
2 teaspoons garlic powder
2 teaspoons onion powder
1/2 teaspoon nutmeg
1/2 teaspoon allspice
4 cups vegetable stock
1 (15 oz.) can coconut milk
16 oz. Silk brand vegan heavy whipping cream
6 Tablespoons soy sauce
1 T. Dijon mustard
freshly ground pepper, to taste
Making the gravy: Gather ingredients. Add vegan butter to a large saucepan. Turn the heat on medium-high. Once hot, whisk in the flour. Allow to cook for 2 minutes, whisking constantly. Whisk in the stock gradually, and then add the coconut milk and cream. Whisk smooth. Add all the spices, Dijon mustard, and the soy sauce. Cook until thick and bubbly. Adjust seasonings if needed.
Add meatballs to the gravy in the pan. Cook 3 to 5 minutes, or until heated through. Gently stir a couple times as they heat up.
Serve meatballs over mashed potatoes, and garnish with freshly chopped parsley. Serve with lingonberries and vegan lefse if you wish.
Enjoy!
~Melissa
You may enjoy these related posts: