Print Friendly Version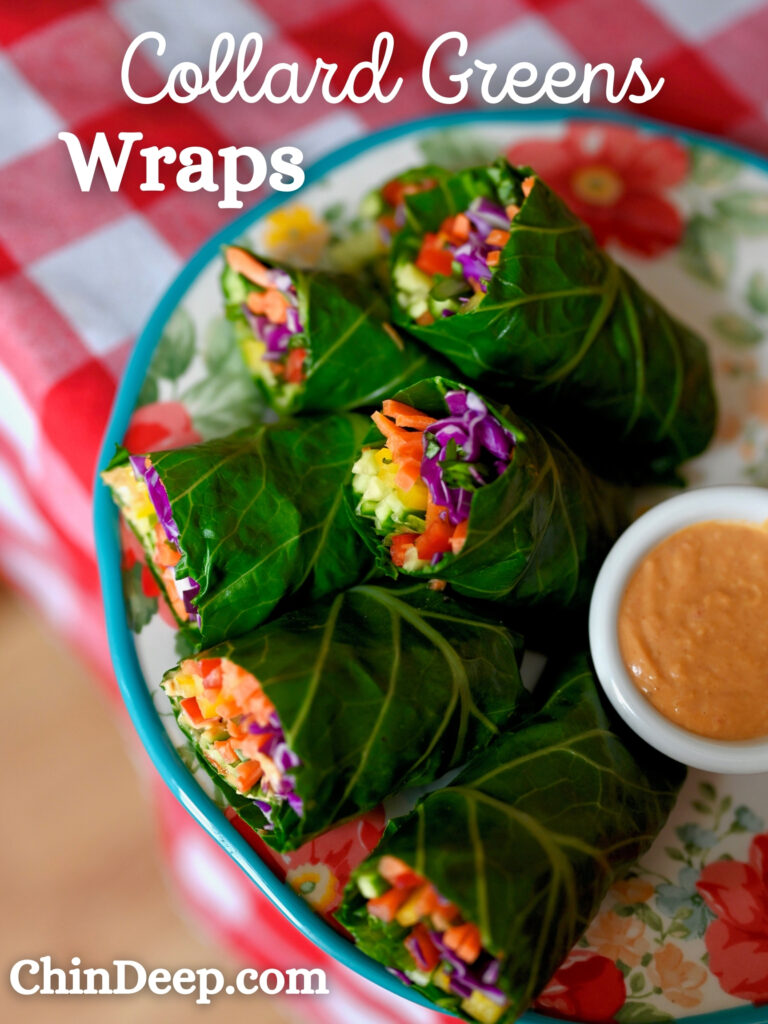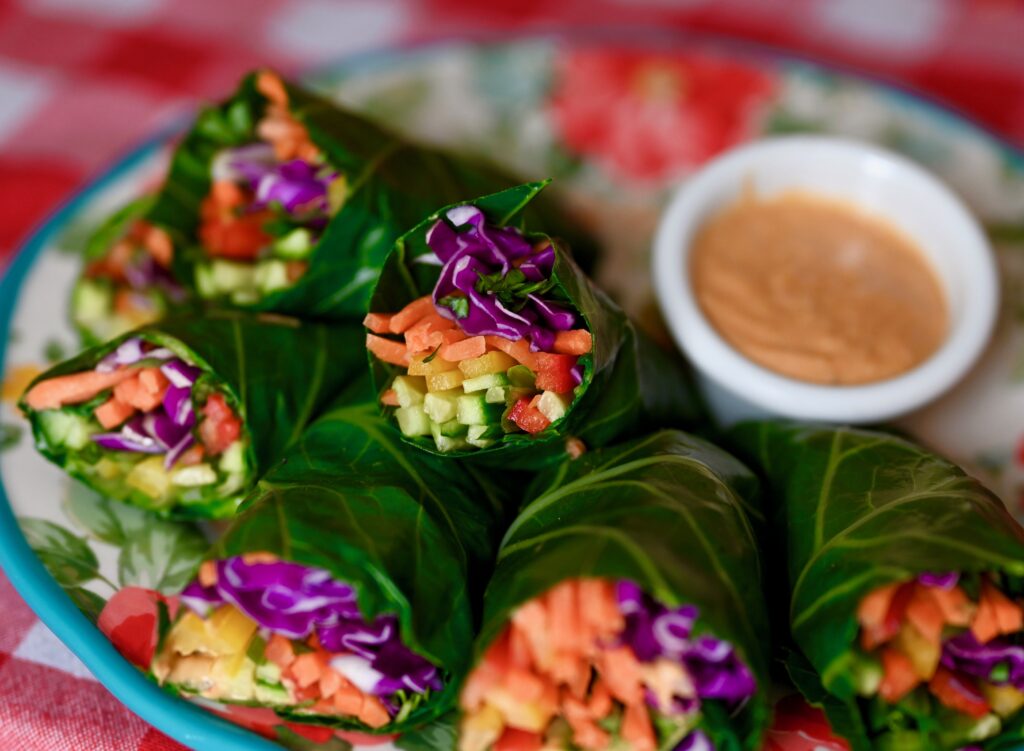 Hello, Lovelies!
I spent the day with my daughter, her husband, and my grand girls yesterday. Me and my daughter made collard green wraps and they turned out sooooo good, and so ridiculously pretty, I just had to share the recipe!
These healthy little collard green veggie wraps are actually really easy to prepare.
Just buy as many large collard green leaves as you want. The number of greens will be the number of wraps you'll make (duh.) You may want to get a few extra in case a couple of them tear. The torn wraps taste just as good as the others, so no worries there.
Secondly, you'll want to get your favorite veggies to stuff in the wraps. I'll share the ones we used below, and give you an approximate as far as quantity goes. We ended up with a ton of leftover veggies. Don't worry if you go a little overboard and buy too much. You can always use the vegetables in another recipe, or even just for salads.
The next time I make these I'm going to try adding some mango or green papaya. I think it would make a sweet, unexpected addition that would contrast nicely with the more savory veggies. A little fresh mint would be good too.
You can spread a thin layer of hummus on these before adding the vegetables, but after doing a taste test we decided we liked them better without the hummus.
24 large collard green leaves
a bag of julienned carrots (or cut them up yourself)
1 bunch green onions, thinly sliced into ribbons
6 baby cucumbers, unpeeled, julienned
1 c. thinly sliced (shredded) purple cabbage
1 large red bell pepper, julienned
1 large yellow bell pepper, julienned
1/2 c. finely chopped basil (or cut in chiffonade, if you're feeling fancy)
peanut sauce (recipe below)
Blanch the collard greens in boiling water for 30 seconds and then run them under cold water to stop the cooking process. You just want them slightly softened and brilliant green, not mushy.
Lay a collard green on a plate and add some of each of the veggies horizontally over the bottom portion of the leaf (where the rib is thickest.) Fold the bottom of the leaf over the veggies, then fold in the sides, and roll up so they're firmly wrapped (like an egg roll). Be careful not to tear the leaves. Cut them in half, on the diagonal and place them on a pretty plate as you work.
Once they're all made, place them in refrigerator for at least an hour to chill. They're good at room temperature, but way better cold.
Serve with your favorite peanut sauce!
my homemade peanut sauce:
3/4 c. creamy peanut butter
1 Tablespoon dark, toasted sesame oil
1 Tablespoon BBQ sauce or Teriyaki Sauce
2 teaspoons soy sauce
2 teaspoons rice vinegar
1 to 2 teaspoons Sambal Oelek hot sauce (or Sriracha)
2 Tablespoons finely grated ginger
1 large, fresh garlic clove, finely grated
2 to 4 Tablespoons water to thin to desired consistency
Place all in a bowl and whisk until smooth
Enjoy!
~Melissa
You may enjoy these related posts: