Print Friendly Version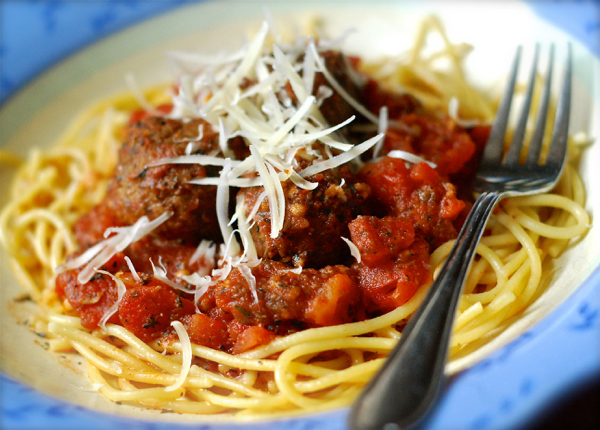 This is the recipe to make when you're craving REALLY good sauce for pasta, but only have a small amount of time to prepare it. This sauce has it all. Chunky, tangy tomatoes, lots of fresh, zesty, garlic, fresh herbs, and a little bit of wine to take it from ordinary to extraordinary.
Just boil up a pot of your favorite pasta, heat up some vegan meatballs or sausage, grate a little Violife Parmesan cheese for sprinkling, and queue up the Dean Martin Italian Love Songs. Heck, light some candles too. Whoever said easy recipes can't be fancy?
serves 6 people
1/4 cup extra virgin olive oil
6 large cloves garlic, minced
2 (28 oz) cans petite diced tomatoes, undrained
2 Tablespoons fresh oregano, chopped
1/4 cup fresh basil, chopped
1 teaspoon onion powder
1/4 cup dry red or white wine
freshly ground pepper, and sea salt, to taste
Place large saucepan over medium heat. Pour oil into pan and once it's hot, add the garlic. Cook just until golden. Add the rest of the ingredients and lower heat to a gentle simmer. Cook, uncovered, for 15 minutes so the sauce can reduce a bit. This also allows the flavors of the fresh herbs to marry with the tomatoes.
Enjoy!
~Melissa
You may enjoy these related posts: