Print Friendly Version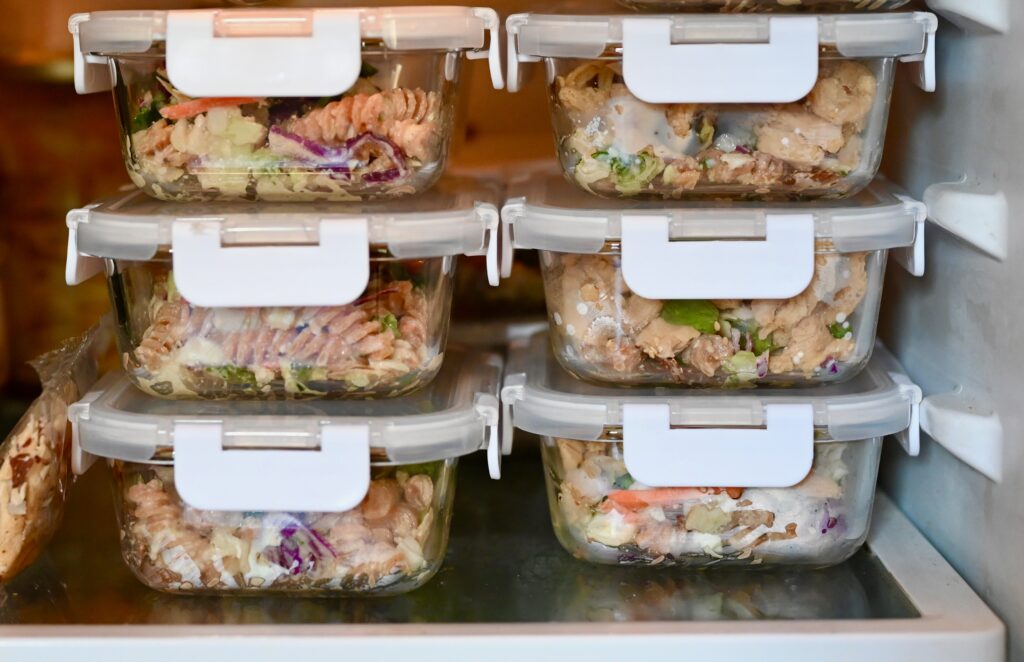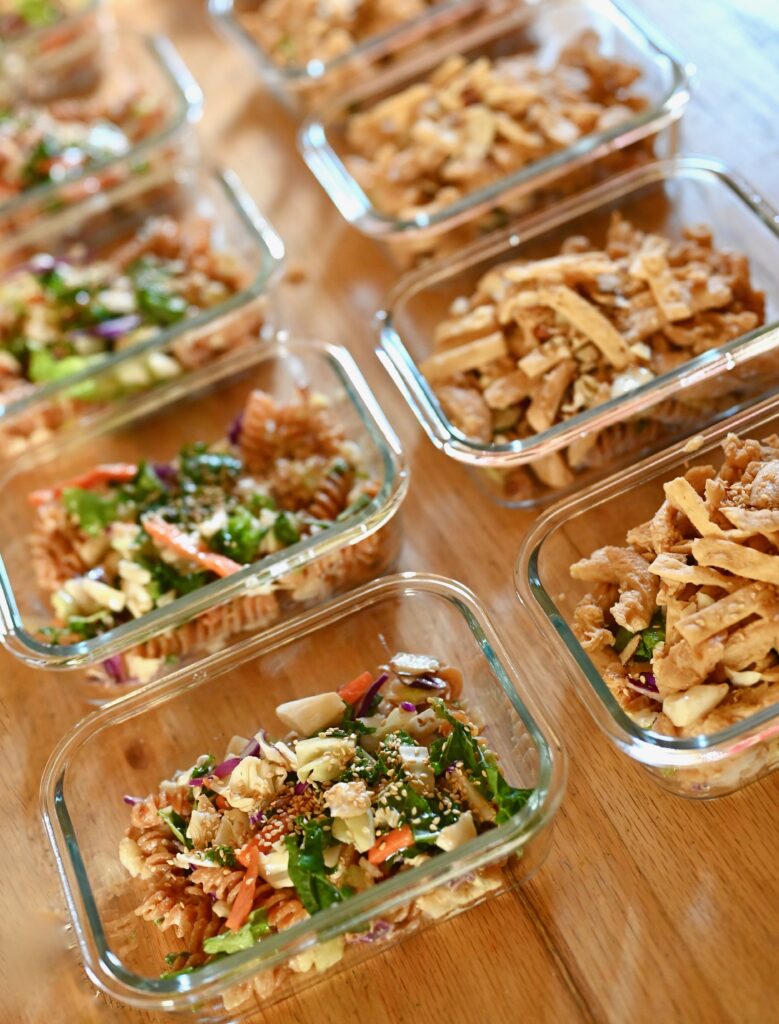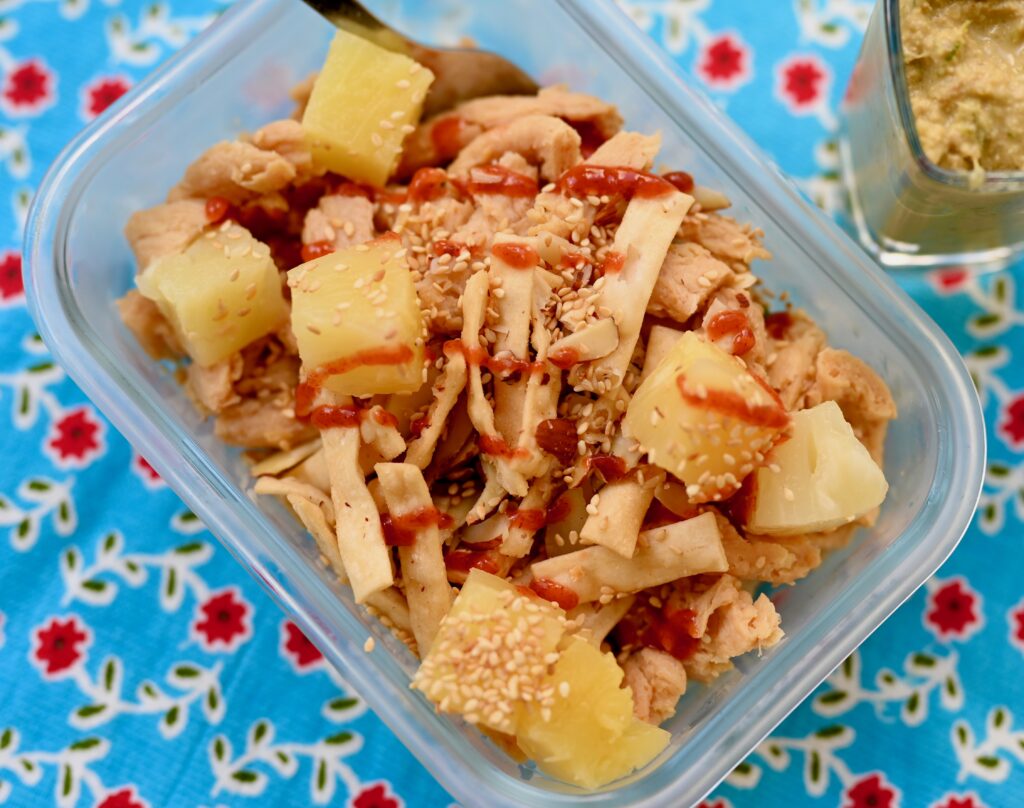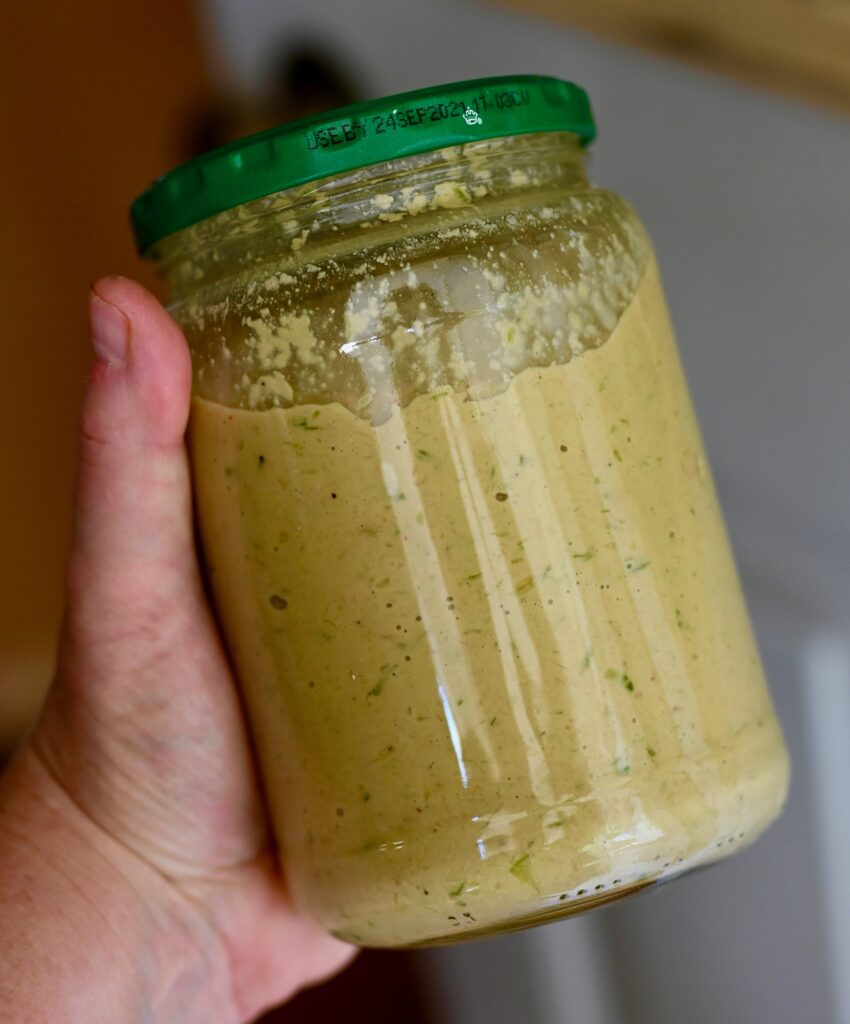 Hi there!
So, this was my first attempt at vegan "meal prep" and I really like how it turned out. It was so nice to make everything at the beginning of the week and just have lunch/dinner prepared when we were ready to eat. We mostly enjoyed this for lunch, but there were a couple days when we had them for dinner.
When shopping for the meal prep containers I opted for glass instead of plastic. I couldn't find all glass meal prep containers, but I did find ones that have BPH-free lids so I got those. I ordered a set of 10 from Amazon, and they are GREAT! The tops seal so I can just pop one in an insulated lunch box with an ice pack for lunch on the go. What a revalation!
This week I decided to "veganize" one of my favorite dishes. Hawaiian cold ginger "chicken" plate lunch. Before going vegan I made the chicken version a lot. I simplified it for jar lunches at one point, and that's pretty much what you see here, but with soy curls in place of chicken.
Want to try it? Okay, here's what I did.
First I made a big batch of my Hawaiian ginger sauce:
1 cup fresh ginger, unpeeled if you have organic
8 green onions, including green tops
2 large cloves fresh garlic
1/2 cup olive oil or tahini
2 to 3 Tablespoons coconut sugar (or brown sugar)
2 or 3 Tablespoons white vinegar (to taste)
sea salt and freshly ground black pepper, to taste
Zip all in a food processor until smooth. Add a little water (if needed) to thin it out if you're having a difficult time blending it. Once done, transfer to a big jar with a lid and refrigerate until ready to use.
Next I made the pasta salad:
1 (8.8 oz.) box Barilla red lentil rotini (or the same amount of your favorite rotini)
2 (12.5 oz.) bagged Dole Asian Salad Mix kits
dark sesame oil, to taste
vegan mayonnaise or tahini, to taste
rice vinegar, to taste
sea salt and freshly ground black pepper, to taste
Make pasta according to package directions for al dente pasta. Once done, drain, gently rinse under cold water until cold, drain well again, and place in a large mixing bowl.
Add the salad portion of the salad kits to the pasta. Gently mix to combine. Pour the dressing packets over the salad mixture along with the sesame oil, mayo/tahini, rice vinegar, salt, and pepper. Adjust seasonings and ingredients to taste.
Divide salad mixture between 8 to 10 meal prep containers. I thought the amount in the bottom of each container looked a little skimpy, but the high protein pasta that I used, along with the other ingredients turned out to be just right. If you think this seems like it's not enough pasta salad, you can always double it.
Last, I prepared the soy curls:
I made an 8 oz. bag according to package directions for rehydrating them. Then I drained them, tossed them in some teriyaki sauce and divided them among the 10 meal prep containers, placing them on top of the pasta salad. Easy peasy.
I secured the lids to the meal prep containers and placed them all in the refrigerator.
To serve:
Open a container, top with some pineapple chunks, a drizzle of the prepared Hawaiian ginger sauce, some toasted sesame seeds, and some Sriracha.
Note: Each of the Asian salad mixes come with a packet of sliced almonds and crunchy chow mein noodles. You can put this on some of the salads, but it probably won't be enough for all of them. If you like the idea of this as a salad topping, add sliced almonds and crunchy chow mein noodles to your shopping list.
I hope you love this meal prep recipe as much as I do. Stay tuned, meal preppers! I have tons more vegan meal prep ideas for you!
Enjoy,
~Melissa
You may enjoy these related posts: