Print Friendly Version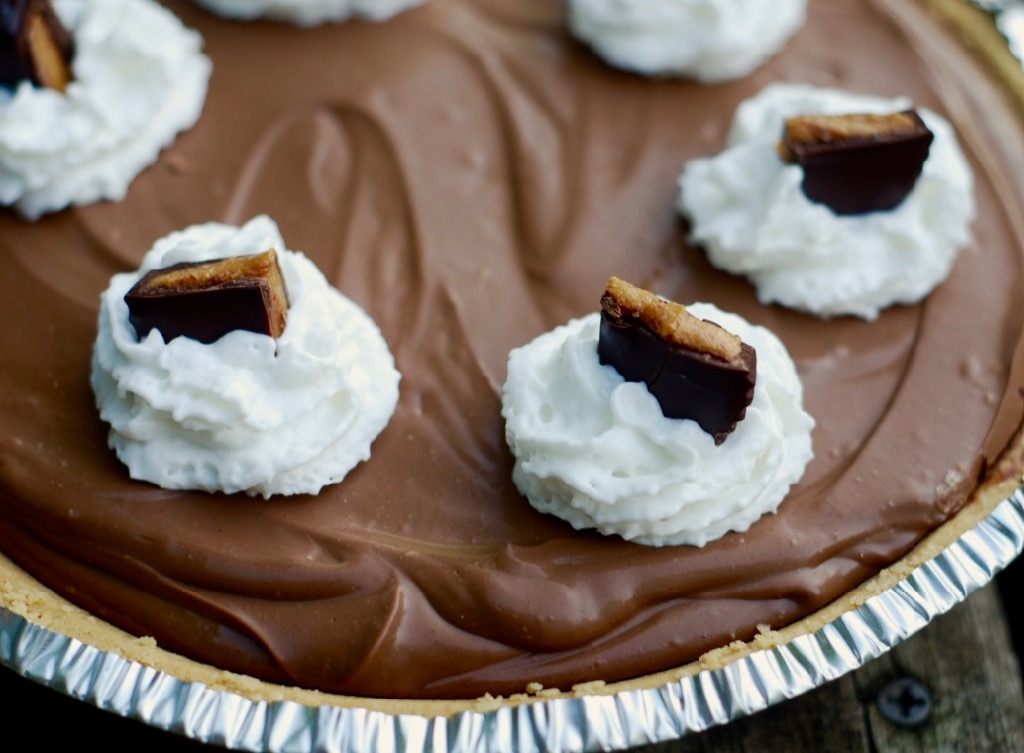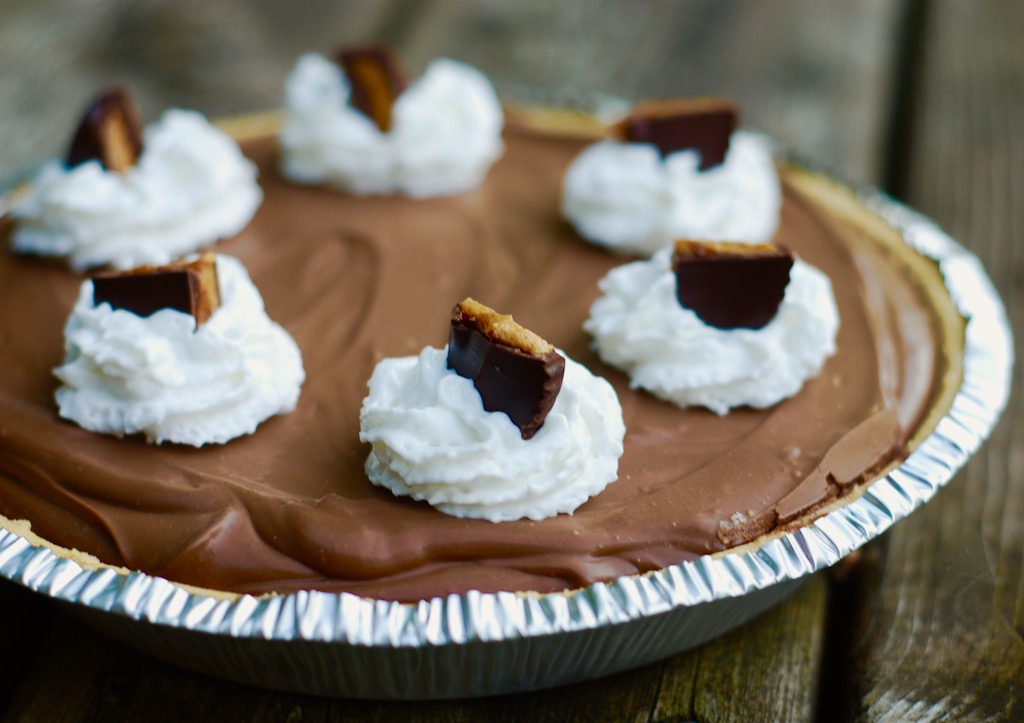 Here's an easy, no-bake, decadent, rich, chocolaty, peanut buttery, creamy pie that goes together in minutes and is super delicious! The first time I made it I could hardly believe how good it was. I make it often (maybe too often?) because of how good and easy it is. We enjoyed big slices of this as our 4th of July dessert this year.
You could easily cut this into 10 pieces because of how rich it is, but if you want to possibly hurt yourself eating chocolate, if that's the goal, then cut it into 6 pieces. I topped ours with big (bigger than pictured) dollops of coconut Reddi-Wip, and a little wedge of Justin's Organic Dark Chocolate Peanut Butter Cup on each slice as a garnish. Cute, huh? Don't get the milk chocolate ones if you're vegan (because milk is gross and not vegan.)
This recipe could easily be doubled for two pies. I picked up a already-made vegan graham cracker crust at the grocery store because I was making a ton of other stuff for our picnic and I wanted it to be as quick and easy as possible, but you could make your own graham cracker crust (or Oreo crust) if you feel like it.
If you are afraid of tofu, and think it sounds like a weird pie ingredient, rest assured this pie does not taste even a little bit like tofu. The tofu is essential in this recipe for consistency and creaminess. Another fun fact is that it makes this pie a good source of protein. So, you could just have a piece for dinner. I don't recommend doing this every day, but definitely on special occasions.
Notes: you can use sweetened or unsweetened soy milk or almond milk for this. You could also use chocolate soy milk or almond milk. Any of these will work. I have never tried any other plant milks for this, so I can't say whether or not something like oat or rice milk would hold up in this instance. Another thing to keep in mind: Don't use natural peanut butter in this recipe. You know the kind you have to stir and refrigerate? Just don't. I know, I know… but don't. I don't eat Jif on a regular basis, but when making this pie it's a must. I have tried the natural stuff and it makes the pie weird, and grainy, and hard. I found this out the hard way so you don't have to try it and see if it will work. You're welcome.
I'm going to add one more thing. If you are vegan you might be concerned about using palm oil. I get that. Jif makes a product called "Simply Jif" that doesn't contain palm oil and it works great in this recipe. I can usually find it at Target.
Okay. On to the recipe…
1 (9 inch) vegan graham cracker crust
12 oz. firm silken tofu
1/2 cup soy milk or almond milk (sweetened, unsweetened, or chocolate)
1/2 cup Jif peanut butter (or Simply Jif Peanut Butter)
12 oz. vegan chocolate chips ( I use Enjoy Life semi sweet)
coconut Reddi-Wip
2 to 4 Justin's organic dark chocolate peanut butter cups, cut into wedges for garnish
Blend tofu, plant milk, and peanut butter in a blender until smooth. Scrape down sides of blender as necessary. Melt the chocolate chips until just melted and smooth. Watch closely so they don't burn. I do this using a microwave and heat them in 30 second bursts, stirring often. Pour melted chocolate into blender. Blend smooth. Pour into graham cracker crust. Smooth top with rubber spatula. Cover and chill pie for 12 to 24 hours prior to cutting, garnishing, and serving.
Enjoy!
~Melissa
You may enjoy these related posts: