Print Friendly Version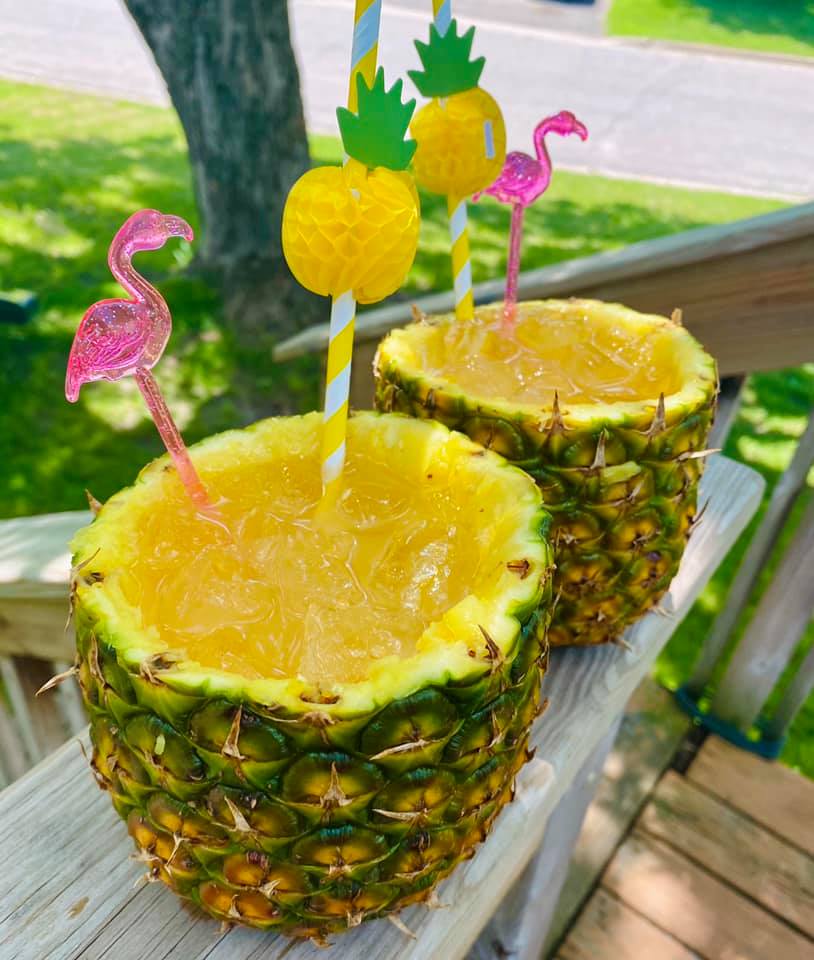 Here are a few refreshing, beachy pineapple cocktails to celebrate summer! Garnish with flamingo swizzle sticks, mini paper umbrellas, cute straws with puffy pineapples on them, maraschino cherries, pineapple chunks, lime wedges, orange slices… you get the idea! Have fun with it.
My daughter made the drinks pictured above and they are literally just pineapple juice mixed with a little Malibu coconut rum, but I thought maybe we could elaborate on this theme and include a few more pineapple cocktails in this post for your enjoyment.
Note: Always try to use fresh ingredients and fresh juices in these cocktails for the ultimate happy hour experience. Also, feel free to tweak the amounts in these recipes. You may enjoy a stronger or a weaker cocktail than the ones below. The ingredients serve as a guideline. Make the drinks the way you like them.
Happy summer!
~ HOW TO CORE A PINEAPPLE ~
Cut off pineapple tops and discard. Using a pineapple corer, or a very sharp knife, carefully remove flesh from pineapple leaving 3/4 inch wall. Be careful not to pierce the bottom of the pineapple or your cocktail will leak. Reserve flesh/fruit of pineapple for drinks and garnishes. Discard core.
~ MALIBU PINEAPPLE RUM PUNCH ~
1 cored pineapple
12 oz pineapple juice
2 shots Malibu coconut rum
1/3 cup gingerale
ice
Pour pineapple juice, rum, gingerale and ice in one cored pineapple. Stir with a swizzle stick, garnish, and serve.
~ HAWAIIAN PINEAPPLE SCREWDRIVER ~
4 oz. pineapple juice
4 oz. orange juice
3 oz. vodka
fresh mint sprigs
orange slices
pineapple chunks
maraschino cherries
ice
Pour juices, vodka, and ice in one cored pineapple. Stir with a swizzle stick and garnish with the mint, orange slices, and pineapple chunks, and maraschino cherries.
~ WAIKIKI BEACH PINEAPPLE COLADA ~
1 cup fresh pineapple chunks
2 oz Malibu coconut rum
2 oz. dark rum
4 oz. coconut cream
splash pineapple juice
splash canned coconut milk
big handful of ice
Place pineapple, Malibu, dark rum, coconut cream, pineapple juice, coconut milk, and ice in blender. Blend smooth, adding a little more ice if needed. Pour into cored pineapple. Garnish (don't forget the paper umbrella on this one). Serve.
~ BAHAMA MAMA ~
1/4 oz. Kahlua
1/2 oz. dark rum
1/2 oz. Malibu coconut rum
1/4 oz. 151 proof rum
1/2 oz. lemon juice
4 oz. pineapple juice
maraschino cherries
Gather all ingredients except cherries and pour into a cocktail shaker filled with ice. Shake well. Strain into a cored pineapple filled with crushed ice. Add cherries. Garnish with a strawberry and whatever else you like.
~ PINEAPPLE BOURBON LUAU LEMONADE ~
8 oz. pineapple juice
3 oz. bourbon
2 oz. lemon juice
splash 7-up
pineapple chunks and lemon wedges for garhish
Mix pineapple juice, bourbon, and lemon juice in a cocktail shaker. Fill cored pineapple with ice. Pour cocktail ingredients over ice. Garnish and serve.
Cheers!
~Melissa
You may enjoy these related posts: