Print Friendly Version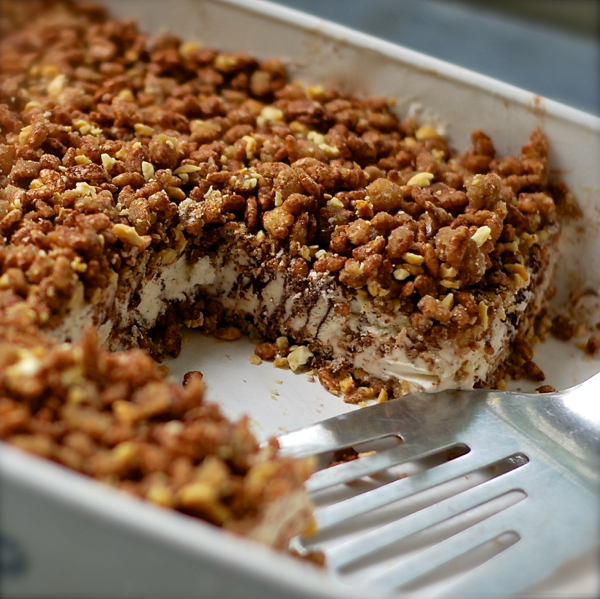 We just returned home from a wonderful day celebrating my birthday. We took a little day trip on Wisconsin's Great River Road, had lunch at a favorite cafe in Pepin, stopped to do a bit of shopping in Stockholm, and hit an antique shop in Bay City. (I brought a few beautiful finds home with me!) So relaxing and fun. I'll tell all in my next "scenes" post and share tons of photos.
Here's the recipe that so many of you have been waiting for. I've received sooooo many emails asking if I would "please hurry up and post it quick!" 😉 Here ya go!
5 cups Cocoa Crispies Cereal
1 cup finely chopped peanuts
1/2 cup butter
1 cup brown sugar
1/2 gallon chocolate swirl ice cream (or your favorite)
Place the cereal and nuts in a large mixing bowl. Place butter and brown sugar in a medium size saucepan and heat, stirring constantly, over medium flame until butter is melted and sugar is mostly dissolved. Pour over the cereal and mix well, using a large spoon.
Press half of the cereal mixture into the bottom of an ungreased, 9 x 13 glass cake pan. Press firmly and coat the bottom of the pan evenly.
Remove ice cream from carton and slice into 1 inch slices. Place in an even layer over the cereal crust in the pan. Smooth the seams using a spoon. Sprinkle the remaining mixture over the top of the ice cream to create and even top crust. Once the cereal is evenly distributed, press gently into the ice cream.
Cover the pan with a cake pan lid or aluminum foil. Place in freezer and allow the ice cream bars to chill for at least 4 hours prior to serving.  Once completely chilled, cut into pieces, plate and serve. This makes 12 to 18 ice cream bars.
Enjoy!
~Melissa
You may enjoy these related posts: