Print Friendly Version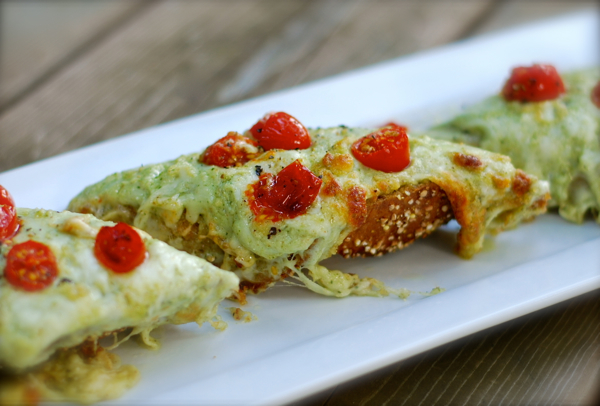 If you like garlic bread and caprese salad, then you are going to LOVE this Easy Cheesy Caprese Garlic Bread! It is so darn good. Sort of a cross between garlic bread and pizza. I adapted it from my recipe for The BEST Garlic Bread on the Planet.
Although I do make this to go with spaghetti, you could just make up the sauce and forget the noodles if you like. Use the sauce for dipping. This is very rich and filling. One piece is always enough for me.
~ preheat oven to 400 degrees F. ~
1 long loaf crusty Italian bread
1 cup real mayonnaise (no substitutes)
1/4 cup homemade basil pesto
2 large fresh garlic cloves, minced
1/2 cup grated Parmesan cheese
8 oz. grated Mozzarella cheese
freshly ground black pepper, to taste
18 to 20 grape tomatoes, halved
1 teaspoon onion powder
Cut Italian loaf in half, lengthwise. Place both halves on a large, parchment-lined baking sheet. Set aside.
In a large mixing bowl, combine: mayonnaise, pesto, minced garlic, Parmesan, Mozzarella, and black pepper. Mix until well combined. Spread this mixture over the bread halves in an even layer. Arrange halved tomatoes on top of the bread halves. Sprinkle the onion powder over everything. Bake for 20 minutes or until hot all the way through, golden brown along the edges, and bubbly. Cut into pieces and serve.
Enjoy!
~Melissa
You may enjoy these related posts: