Print Friendly Version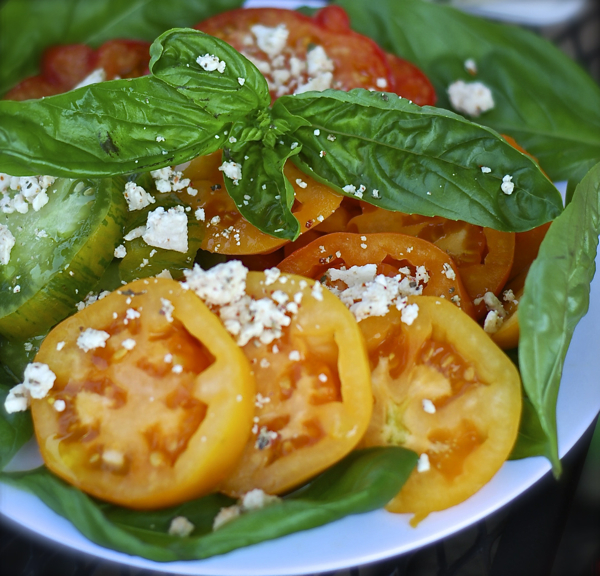 This gorgeous salad is always a show stopper at picnics, potlucks, and dinner parties. Heirloom tomatoes are the perfect summer fare. Their beautiful colors are a celebration of the season itself, and there is no flavor that screams summer more than the perfectly ripe, fresh tomato!
several sliced heirloom tomatoes (red, orange, green, and yellow)
a large handful of fresh basil leaves
crumbled feta cheese OR goat cheese
white balsamic vinegar OR white wine vinegar
unfiltered extra virgin olive oil
coarse sea salt
freshly ground black pepper
Slice tomatoes and arrange them on a pretty platter. Place whole and torn basil leaves among the tomato slices. Crumble a bit of feta or goat cheese over the top, followed by a drizzle of vinegar and olive oil. Sprinkle salt and pepper, to taste. Serve immediately.
Note: Never keep tomatoes in the refrigerator. They are always best at room temperature and will continue to ripen in a sunny spot on your counter or window sill.
Enjoy!
~Melissa
You may enjoy these related posts: