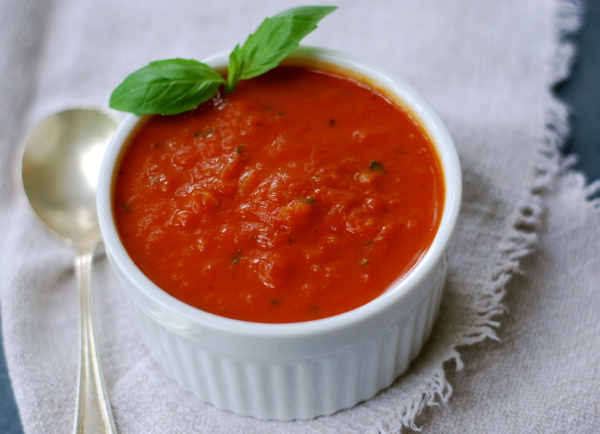 A couple weeks ago, Gracie and I enjoyed an afternoon on Nicollet Mall in Minneapolis. We perused the shelves of Barnes & Noble, bought some books, and had lunch at Panera. I had the Mediterranean Vegetable Sandwich (ohmygosh! that tomato basil bread is to die for!) and chips, and Grace had half of a turkey sandwich with a cup of creamy tomato soup. She oohed and aahed over that soup and asked if maybe I could try making it at home. I found a couple "copycat" recipes online and tweaked the ingredients a bit, because the soup didn't seem to taste quite right to me without a bit more basil, oregano, and half & half. I think I got pretty darn close to the original, but you be the judge 😉
Note: I didn't use an immersion blender to make this even more creamy, but if you want to do that extra step, feel free.
3 Tablespoons olive oil
4 medium garlic cloves, minced
1 large yellow onion, chopped very fine
2 (28 oz.) cans tomato puree
1 cup low sodium chicken stock
2 Tablespoons sugar
1/2 cup half & half (half milk, half cream)
10 large basil leaves, chopped fine
1/2 teaspoon dried oregano leaves
sea salt and freshly ground black pepper, to taste
Heat oil over medium high heat. Add garlic. Saute 30 seconds. Add onion and stir frequently until transparent and softened (approximately 8 minutes.) Add tomatoes, stock, and sugar. Bring to a low simmer and cook, uncovered, for 15 minutes. Stir frequently. Once thickened and reduced somewhat, add the half & half, basil, oregano, salt, and pepper. Heat through, blend with an immersion blender to make it extra creamy, and serve.
Enjoy!
~Melissa
You may enjoy these related posts: