Print Friendly Version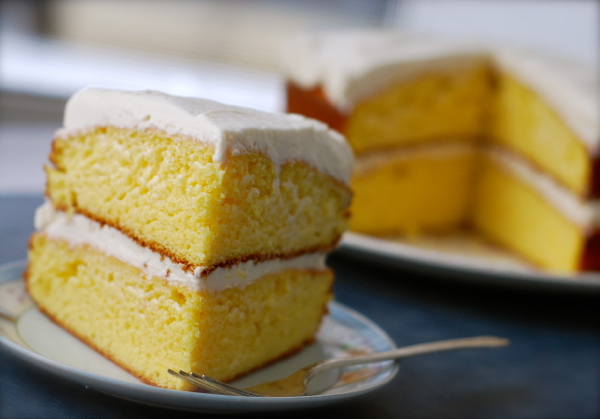 Do you remember the snack cake by Nickle's called the Banana Flip? When I was little I preferred them to almost any other treat, including candy bars. They were sooooo good. I'm pretty sure they were discontinued. I haven't seen one in a very long time.
This delicious snack cake came to mind a few days ago and I had a yen for one. I haven't had one in years, so I decided to create an easy cake that would taste like a Banana Flip. It turned out absolutely amazing and took care of my craving.
If you liked Banana Flips, you're going to love this! Yes, you start with a cake mix. You just can't get the right flavor when using scratch ingredients for this particular cake. Trust me.
for the cake:
~ preheat oven to 350 degrees F. ~
1 (16 to 18 oz.) boxed yellow cake mix (I used Pillsbury Moist Deluxe)
1 (3.4 oz.) package powdered instant banana pudding mix
1 and 1/2 cups whole milk
4 large eggs
Line 2 greased, round, 9 inch cake pans with a circle of cooking parchment cut to fit the bottom inside of the pans. Once the parchment is in place, grease that too.
In the bowl of a counter top mixer, combine cake mix, powdered pudding mix, milk and eggs. Using the whisk attachment, beat on low for 30 seconds and then medium for 2 minutes. Divide the batter between the two prepared pans. Bake for 20 to 30 minutes, or just until a toothpick inserted into the center of the cakes comes out with a couple moist crumbs. Remove cakes from oven. Cool in pans for 5 minutes. Carefully transfer cakes from pans to wire racks to cool completely. Peel off parchment. While the cakes cool, make the cream filling frosting.
for the cream filling frosting:
1/3 cup all purpose flour
1 cup whole milk
1/2 cup softened butter
1/2 cup vegetable shortening (Crisco)
1 cup sugar
1 and 1/2 teaspoons pure vanilla extract
In a small saucepan, whisk flour and milk until smooth. Bring to a gentle boil, stirring constantly for 1 to 2 minutes, until thickened. Remove from heat, cover and cool to room temperature.
In the bowl of a counter top mixer, cream butter, shortening and sugar until light and fluffy. Beat in vanilla. Add the completely cooled milk mixture and beat on high for 8 to 10 minutes or until light and fluffy.
Place one of the completely cooled cakes on a cake plate. Top with half of the frosting, smoothing it out so it's an even layer. Place the second cake over the frosting, and finally frost the top cake with the remaining frosting. Cut and serve. Refrigerate leftovers.
Enjoy!
~Melissa
You may enjoy these related posts: