Print Friendly Version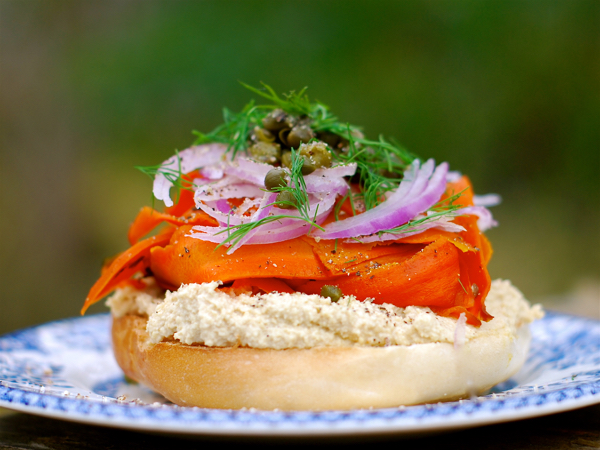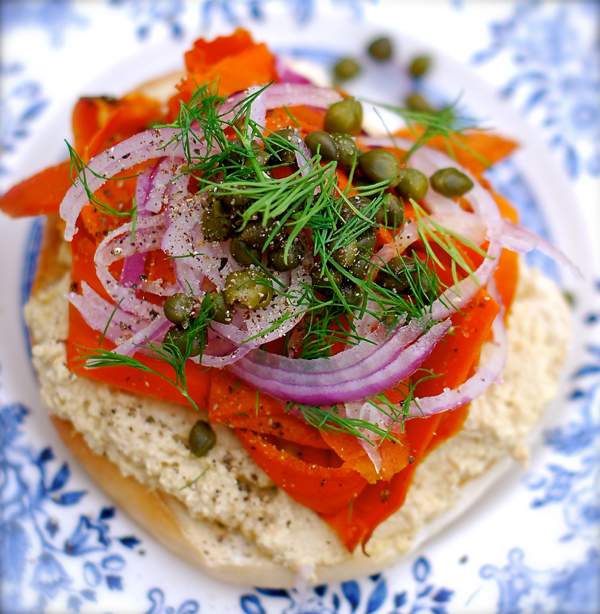 I had a craving. Bagels with cream cheese and lox with a cup of French press coffee. One of my absolute favorite things to eat. Since I don't eat fish anymore, what in the heck was I supposed to do? I looked up vegan lox online and found a bunch of recipes for carrot lox. Hmmm. Kind of weird, but also kind of perfect. I decided to try making up my own recipe for carrot lox because some of the recipes were ridiculously long. Certainly it doesn't have to be a seven-paragraphs-long-complicated ordeal? Right? *cries.
So this is what I did. And guess what? I got it right on the first try. It was SUPER easy! I wish I would have tried this sooner. Lox sans fish. Yippeeeee! Vegans rejoice!
Okay, so this is what you do.
for the carrot lox:
(4 servings will top 4 bagel halves)
4 large carrots, washed, peeled and sliced into ribbons using a veggie peeler
2 teaspoons olive oil
1 Tablespoon soy sauce
2 teaspoons liquid smoke
4 sheets kelp snacks (I used Ocean's Halo sea salt flavored snacks)
Heat oven to 400 degrees F. Place carrot ribbons, oil, soy sauce, and liquid smoke in a bowl. Crumble seaweed snacks over. Toss everything together until well coated.
Line a large baking sheet with parchment. Lay the carrot ribbons side by side on parchment. Pour excess liquid over the carrot ribbons. Place another parchment sheet over the carrots and crimp the edges so the ribbons are sealed inside. Bake for 20 minutes, or just until carrot ribbons are al dente (tender, but firm… not mushy and not crunchy.)
Allow carrot lox ribbons to cool. Cover with plastic wrap.Place on a plate in refrigerator and chill completely before serving.
I topped my toasted bagel with: cashew cream (you could use vegan cream cheese if you wish), a pile of the carrot lox, thinly sliced purple onion, capers, fresh baby dill, a squeeze of fresh lemon juice, pink sea salt, and freshly ground black pepper.
Enjoy with a cup of French press coffee! So good!
XO,
~Melissa
You may enjoy these related posts: