Print Friendly Version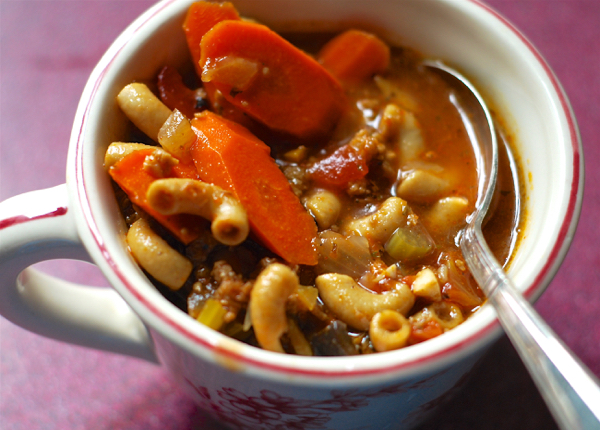 I had a craving for hamburger soup a couple days ago and decided to make up a batch without hamburger (of course.) How did I do it you may ask? Well, there are some amazing vegan "beefy" crumbles out there that add that same texture and protein to soups without (you guessed it) the cow flesh.
This soup is SO good. It's hearty, filling, and full of healthy veggies too! We demolished it in only a few days. I love having a big pot of soup in the fridge so I can heat up a quick lunch or dinner in a few minutes. I can't wait to veganize all of my tried and true favorites.
2 Tablespoons olive oil
2 ribs celery (including the green, leafy tops) chopped
1 large onion, chopped
8 large carrots, peeled and sliced
1 cup sweet bell pepper , any color, chopped
4 oz. fresh mushrooms, washed and coarsely chopped
2 to 3 large cloves garlic, chopped fine or minced
8 cups veggie stock (low sodium)
2 Tablespoons vegan Worcestershire sauce
1 (28 oz.) can petite diced tomatoes, including the juice
1/4 cup tomato paste OR pizza sauce
1/4 cup fresh parsley, chopped (or 2 Tablespoons dry)
1/4 cup fresh oregano leaves, chopped (or 3 Tablespoons dry)
2 teaspoons onion powder
2 teaspoons smoked paprika
a pinch or cayenne pepper, or a Tablespoon of your favorite hot sauce
1/2 cup dry red wine or dry white wine
1 lb. beefy crumbles (Gardein or Vegean Morningstar Farms are both good)
3 cups cooked macaroni (I use whole wheat)
sea salt and freshly ground black pepper, to taste
Saute veggies in the olive oil until everything is tender. You may need two skillets for this. Add the garlic during the last minute so it doesn't burn. Deglaze the pan with a splash of stock or wine, if needed. Place all of these veggies in a large stock pot along with the veggie stock, Worcestershire sauce, tomatoes, tomato paste, all the spices/hebs, and wine. Heat to boiling and then reduce to a gentle simmer. Add the vegan "beefy" crumbles and macaroni and cook until everything is heated through (approximately 5 minutes.) Adjust seasonings. Serve.
This soup will keep, covered in your refrigerator, for a week.
Enjoy!
~Melissa
You may enjoy these related posts: