Print Friendly Version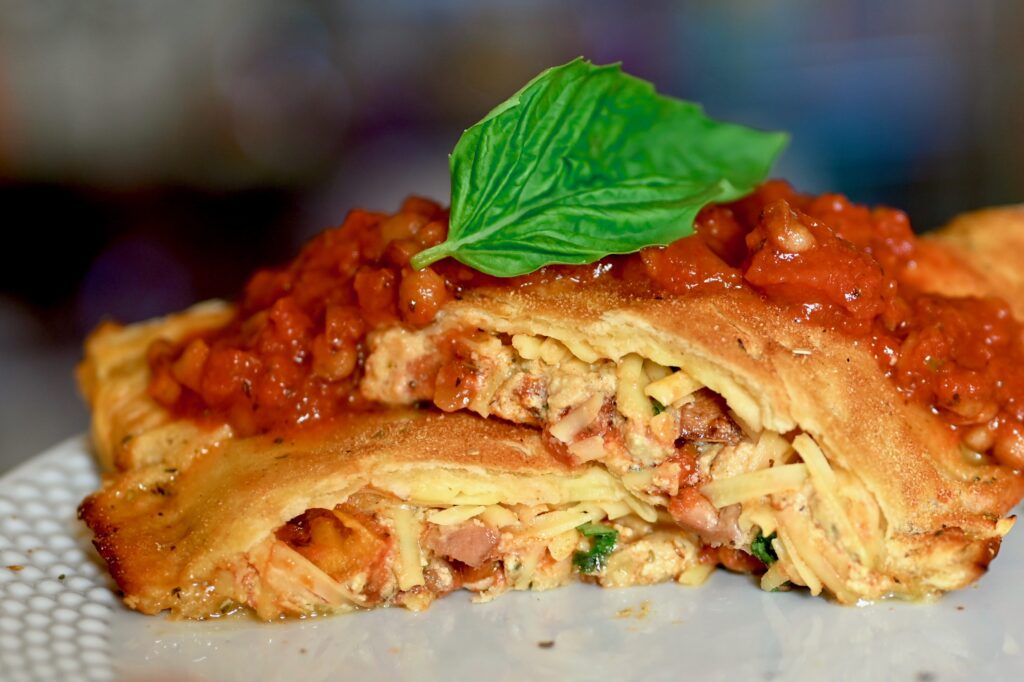 An air fryer is a nearly perfect little appliance to have in your kitchen when you're in a hurry.
I made up this big, saucy, zesty Italian calzone for my lunch today using leftover pizza sauce, various pizza toppings, cheese, garlic butter, and Pillsbury Grands crescent roll dough.
You can make a big calzone for a single serving, or little ones as party appetizers, and the filling possibilities are endless.
for one big calzone:
4 Pillsbury Grands crescent rolls
1/4 c. pizza sauce + more for topping
pizza toppings (I used mushrooms, bell pepper, fresh basil, and onion)
1/3 to 1/2 c. shredded Mozzarella (I used Chao vegan cheese)
a little dollop of ricotta (I used vegan ricotta)
garlic butter for brushing the top of the cooked calzone
Parmesan cheese (optional)
fresh basil for garnish
Open the tube of crescent rolls and remove 4 from roll of dough. Seal seams to create 2 big triangles or 2 big rectangles of dough. Seal seams well. Top one of the pieces of dough with some sauce, ricotta, toppings, and cheese. Place the other piece of dough over the top and seal the edges very well so the filling and cheese doesn't come out during the cooking process. Poke a few holes in the top of your calzone using a fork.
Place a piece of cooking parchment or foil in the basket of your air fryer and place the calzone on top of it.
Air fry at 360 for 3 to 5 minutes, checking frequently to insure the calzone isn't burning. You want it to be a deep golden brown color. Gently flip and cook an additional 2 minutes (or so) until calzone is deep golden brown on that side too. The calzone is done when golden brown, very hot all the way through, and the crescent dough is thoroughly cooked (not doughy.)
Plate, brush with garlic butter, cut in half, and top with more sauce, Parmesan cheese (if using), and a fresh basil leaf as a garnish.
Enjoy!
~Melissa
You may enjoy these related posts: