Print Friendly Version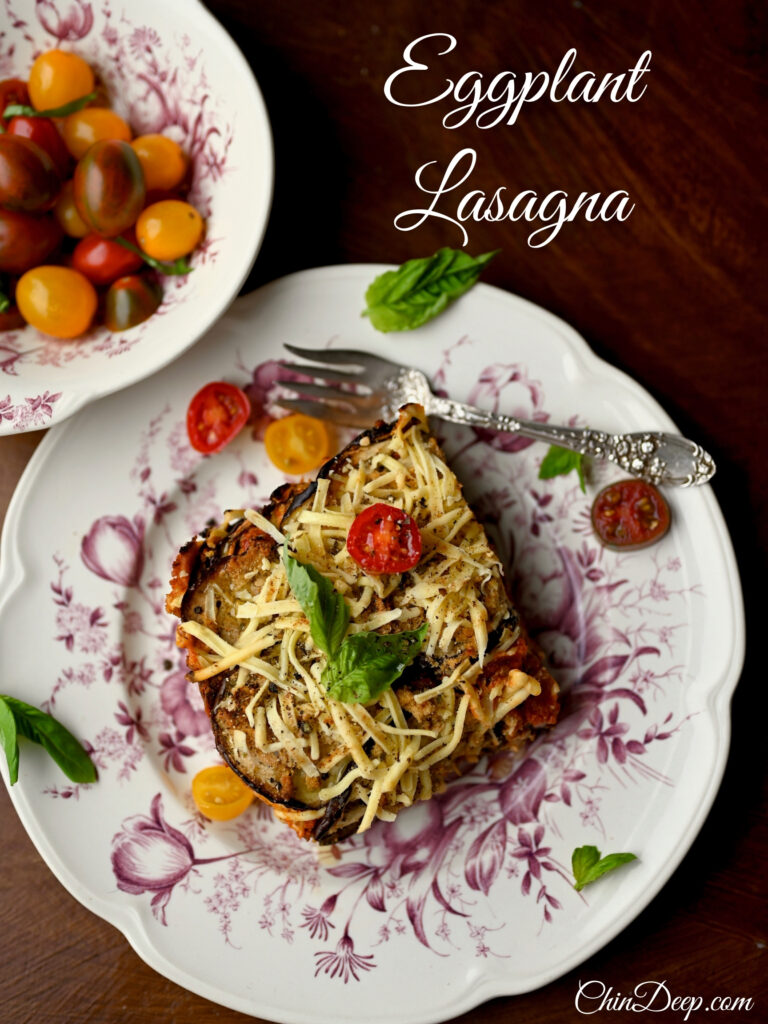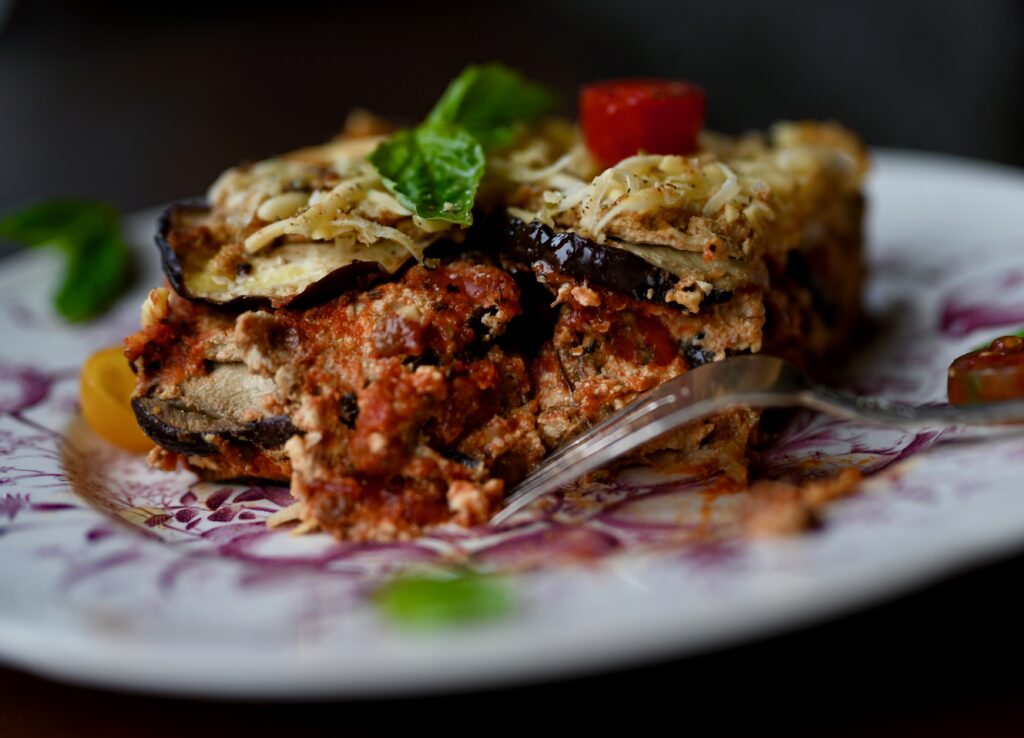 By now we've all seen the spiralized veggies that are meant to impersonate noodles, right? The first time I tried the zucchini "spaghetti" it was soggy and swimming in zucchini juice. Hmmmm. Not exactly the substitute I was looking for. After some experimenting I found that air frying the noodles removed the excess juice and deepened the flavor of the vegetable. Now I prefer zucchini noodles to pasta in most circumstances.
It got me thinking that maybe this step is what had been missing from my eggplant lasagna. It just never seemed to turn out. Either the eggplant was too spongy and wet, or chewy.
I decided to try cutting my eggplant slices thin (like 1/4 inch thick,) and oven roasting them. I had also resolved to never make eggplant lasagna ever again if it didn't turn out. If it disappointed me this time, into the garbage it would go and I'd live out my days eating lasagna with pasta noodles like nature intended. To hell with it.
I'm so glad I gave it one more try. If at first you don't succeed, try, try again, right?
This eggplant lasagna is the stuff dreams are made of. It's so delicious that I'm going to start making it this way all the time. Okay, maybe not all the time, but most of the time. My Crock Pot lasagna is easier to prepare. Not gonna lie. But this is so good and so healthy! Don't ya just love when that happens?
The hardest part about making eggplant lasagna is this additional step. "Sweating" the eggplant slices, and then oven roasting. I shouldn't say hard, but putzy and time consuming. Is it worth it? YES.
This recipe can be made with ricotta cheese, but I'm vegan so I make it with cashew cream ricotta. I included the recipe in this post (see below).
Cue the Dean Martin music, pour yourself a glass of really good chianti, maybe light a candle or two, and start cooking. You are gonna love this!
PS… like my dishes? I thought purple transferware would pair perfectly with an eggplant dish.
Enough jibber jabber. Let's do this…
2 to 3 large Italian eggplants (Sicilian or globe eggplant will work too)
36 oz. of your favorite marinara sauce
1 (15 oz.) can lentils, rinsed and drained well
5 large cloves garlic, minced and sauteed until golden
3 cups vegan "ricotta" (recipe below), or regular ricotta cheese
2 teaspoons onion powder
2 Tablespoons fresh oregano (chopped fine,) or dry oregano
1 Tablespoon original Mrs. Dash table blend seasoning
1 teaspoon smoked paprika
1/8 teaspoon nutmeg
2 cups Mozzarella cheese (I like Violife)
Slice eggplant into 1/4 inch thick rounds. Place on plates in a single layer. Salt eggplant slices. Allow to sit for 30 minutes. Blot dry with paper towels.
Preheat oven to 350 degrees F. Place eggplant slices in a single layer on parchment-lined baking sheets. Once oven is preheated, place in oven and roast for 10 minutes. Flip slices and roast an additional 10 minutes. Eggplant is done when it appears dry and slightly withered. It may turn a light brown color which is fine, just don't cook them so long that they burn.
Remove from oven and set aside.
Mix the marinara with the drained/rinsed lentils and the sauteed garlic. Set aside.
While eggplant is cooking, make your vegan "ricotta." Mix all the spices into whatever ricotta you're using.
For the vegan "ricotta":
14 oz. extra firm, organic tofu, pressed, squeezed dry, and crumbled
2 cups cashew cream
1/2 cup nutritional yeast
1 teaspoon sea salt
Place all in a bowl and mix well. Set aside.
Putting it all together:
Lightly grease a 9X13 cake pan with olive oil. Spread 1/4 of the lentil marinara sauce in the pan so it covers the bottom. Place a layer of the roasted eggplant slices on top of the sauce. Then spread 1/4 of the ricotta over the eggplant. Continue these layers until all of your ingredients are used. You may end up with some extra eggplant. Top with some shredded mozzarella (I like Violife.)
Raise oven temperature to 375 degrees F, and bake your lasagna, uncovered, for 35 to 45 minutes or until hot and bubbly.
Remove lasagna from oven and allow to rest for 20 minutes prior to cutting into slices and serving.
Plate and garnish with fresh basil, sliced grape tomatoes, and a drizzle of extra virgin olive oil.
Enjoy!
~Melissa
You may enjoy these related posts: