Print Friendly Version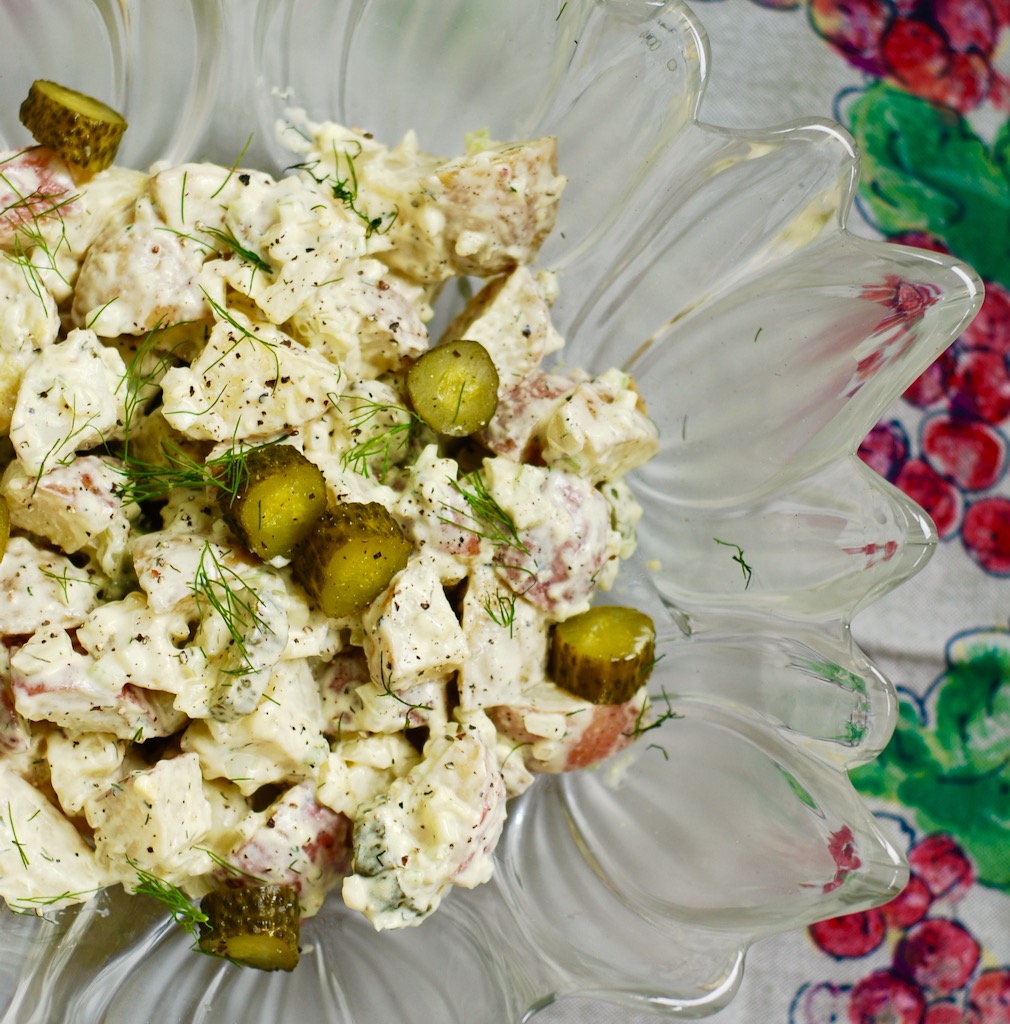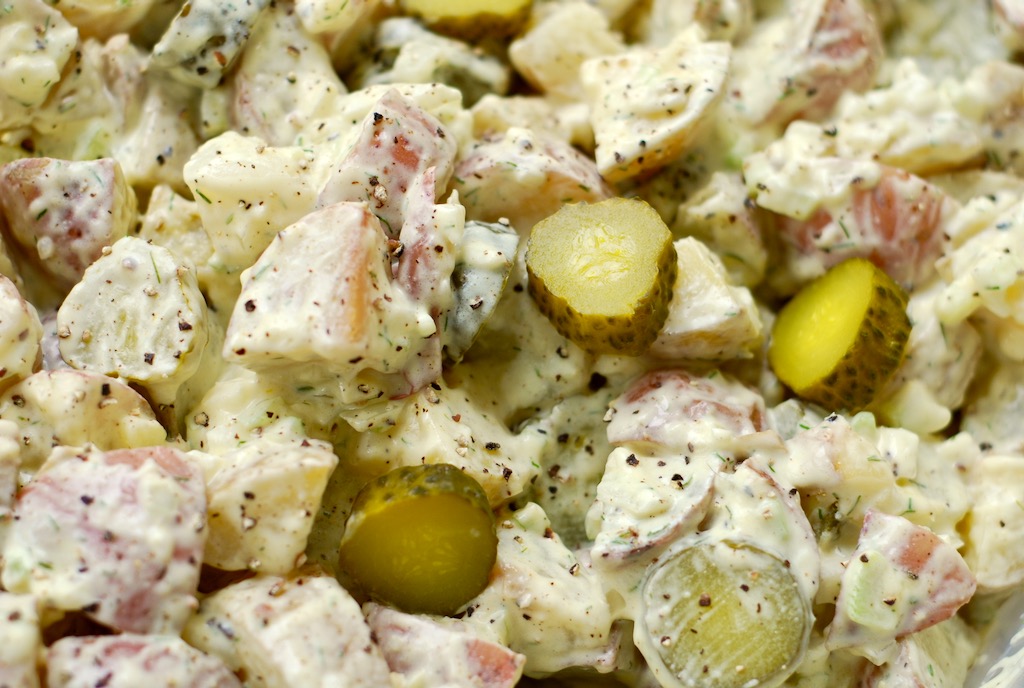 I have recently discovered that oven roasting potatoes yields the best potato salad. I've been playing with potato salad recipes and realized that if you cover them while roasting, it's even better because your potatoes don't dry out and the salad is even more wonderful the next day. Oven roasting your potatoes adds amazing depth of flavor and by cooking them this way you and rest assured that your potato salad will come out perfect every time. No more over-cooking. No more mashed potatoes that would have been potato salad if you had only cooked the potatoes a couple minutes less. And vice versa, no more slightly crunchy potato salad because you were afraid to over boil them.
What a revelation.
So what are you waiting for? Let's get cooking!
for the potatoes:
~ preheat oven to 350 degrees F. ~
5 lb small Yukon Gold potatoes, unpeeled, cut into 1 inch chunks
1 Tablespoon olive oil
1 teaspoon onion powder
1 teaspoon garlic powder
1/2 teaspoon sea salt
1/2 teaspoon freshly ground black pepper
Mix all in a large mixing bowl. Toss so all of the potato chunks are evenly coated.
Place prepared potatoes in a large casserole pan (or two smaller ones) and cover with a glass lid or foil.
Place in preheated oven and cook for 60 minutes, or until potatoes are tender. Taste them. If they taste right to you, remove them from the oven. Spread out on a baking sheet to cool completely, or wait for them to come to room temperature and chill overnight if you want to assemble your salad the next day.
Once the potatoes are completely cool you can add the other ingredients and the salad dressing.
other ingredients:
6 to 8 medium-large dill pickles, sliced
3/4 cup to 1 cup finely chopped sweet onion (such as Vidalia or Maui)
1/2 cup finely chopped celery
for the dressing:
1 heaping cup of your favorite vegan mayonnaise (or more, to taste)
2 to 3 teaspoons dill pickle juice from jar
2 Tablespoons prepared yellow mustard
1 Tablespoon fresh dill, chopped fine
1 to 2 Tablespoons sugar (to taste)
salt and pepper, to taste
Place all dressing ingredient in a medium mixing bowl and stir with a wire whisk until smooth.
Mix the pickles, onion, and celery into the salad and then gently fold in the dressing until everything is evenly coated. Taste and adjust seasonings/ingredients to your liking.
Cover and chill completely before serving. Garnish with more sliced pickles, freshly ground black pepper, and fresh dill sprigs just prior to serving.
Enjoy!
~Melissa
You may enjoy these related posts: