Print Friendly Version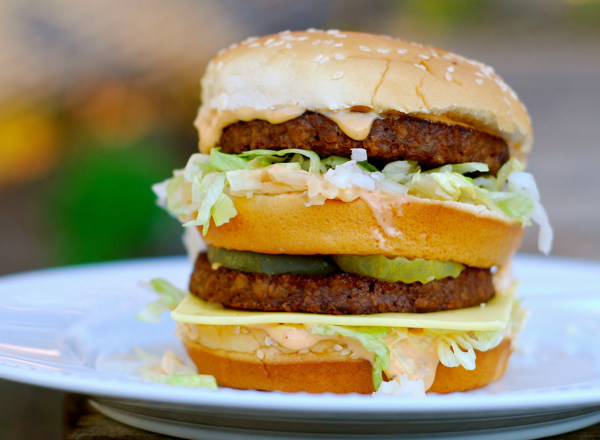 We had a little dinner party a few nights ago and I decided to recreate the McDonald's Big Mac, but with one significant change. I made it vegan! Everyone loved these and they got rave reviews. "Bigger and better than the original!" And they really, truly were!
for each sandwich you'll need:
one sesame seed bun top and two bottom buns
"Mac" sauce (recipe below)
very finely chopped yellow or white onion
shredded iceberg lettuce
one slice of vegan cheese (I used Chao)
two Boca veggie patties (or your favorite)
a little vegan butter for frying the patties
dill pickle slices, patted dry
Fry the Boca patties in the vegan butter until hot all the way through and browned on both sides. Cover and keep warm.
Place a bottom bun on a plate and spread a little Mac sauce on it. Top with some of the onion, lettuce, cheese, Boca patty, a few pickle slices, the middle bun, more Mac sauce, onion, lettuce, pickles, Boca patty, Mac sauce, and finally the top sesame seed bun.
for the Mac sauce:
(this makes enough for about 6 Big Macs, and you may have some left over)
1 cup vegan mayonnaise (we love Just brand and Hellmann's)
8 teaspoons sweet pickle relish (I used "Wickles" brand)
2 Tablespoons white vinegar
1/4 teaspoon sea salt
1/4 cup French dressing (the red, sweet type)
1 Tablespoon ketchup
1 Tablespoon finely minced onion
1 teaspoon sugar
1 teaspoon onion powder
1/4 teaspoon garlic powder
dash of white pepper
Mix all ingredients in a bowl, using a wire whisk. Cover tightly and refrigerate until ready to use.
Enjoy!
~ Melissa

You may enjoy these related posts: