Print Friendly Version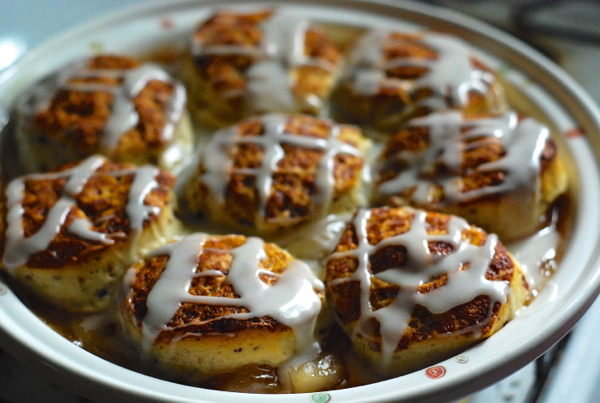 Here's a super easy way to make a fast dessert at the last minute. It also works well for impromptu coffee dates. I've made these for brunch gatherings and they were a hit. The refrigerated cinnamon rolls I buy come with a little container of icing, so I use it to make the cobbler look pretty, but that ingredient is optional.
~ preheat oven to 400 degrees F. ~
1 (1 lb.) can apple pie filling
1 tube refrigerated Pillsbury "Cinnabon" cinnamon rolls (not "Grands")
white icing (optional)
Pour apple pie filling into a glass pie plate and smooth it out so you have an even layer. Open the tube of cinnamon rolls and place them evenly over the top of the pie filling. Bake for approximately 15 minutes in preheated oven (or until rolls are golden brown and the pie filling is bubbly.) Remove from oven and cool a bit before drizzling the icing over (if using.) Serve.
Enjoy!
~Melissa
You may enjoy these related posts: