Print Friendly Version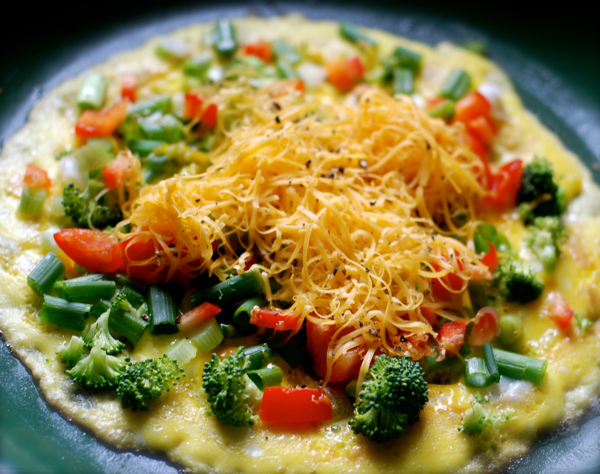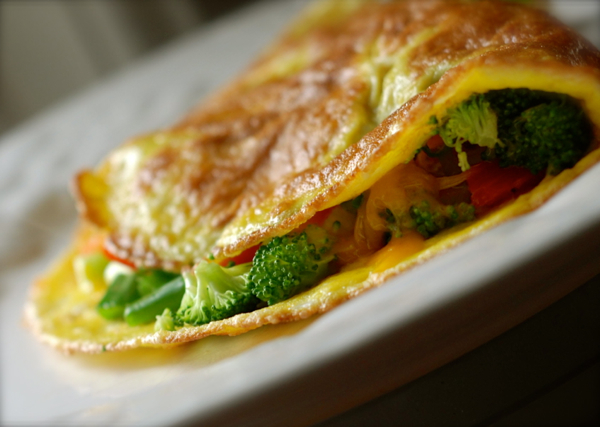 Another awesome, enticing omelette recipe! We like them for brekky, lunch or dinner. Or snacks. Don't forget snacks.
Assemble all of your ingredients before you start so you're not running around the kitchen like a cra cra looking for ingredients while the omelette is cooking (burning). Use two eggs for a single serving omelette or 4 eggs if you're making an omelette to share.
2 to 4 eggs
1/2 cup small broccoli florets, trimmed and steamed until just tender
1/4 cup chopped, sweet red bell pepper
fresh chives, snipped (optional)
 2 green onions, coarse chopped
1/3 to 1/2 cup extra sharp cheddar cheese, grated (or your favorite)
1 or 2 pieces of bacon, fried and crumbled OR 1/4 cup cooked ham, chopped (optional)
Lawry's seasoned salt, to taste
freshly ground black pepper, to taste
2 teaspoons olive oil for the pan
Cut up the chives into little pieces using a kitchen shears. Heat the olive oil in the skillet and roll it around in the bottom of the pan so the entire bottom is coated. Beat your eggs along with a Tablespoon of water for every two eggs used. Pour the eggs into the hot pan, shifting the pan around so the eggs evenly cover the bottom. Place the skillet back on the burner and adjust the heat to a medium temperature. When the eggs are almost done cooking (almost dry on top), sprinkle the filling ingredients evenly over the eggs and lay the broccoli florets evenly down one side of the omelette. When the cheese is melted, fold in half using a spatula. Carefully slide out onto a pretty plate and serve.
Enjoy!
~Melissa
You may enjoy these related posts: