Print Friendly Version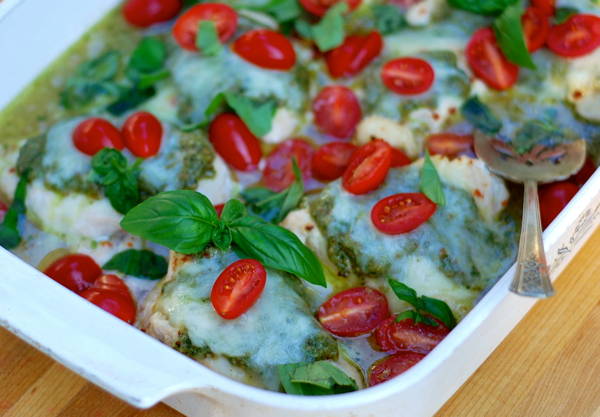 I've been getting into making easy, chicken bake recipes! It's so fun to come up with new and exciting ways to serve chicken to my family. Chicken is such a versatile, low fat, high protein staple. It's no wonder so many people cook with it several times a week.
Here's a wonderful dish that showcases fresh garden tomatoes and basil… It tastes just like caprese salad!
~ preheat oven to 350 degrees F. ~
1/2 cup dry white wine
6 to 8 boneless, skinless chicken breasts
1 teaspoon onion powder
1/2 teaspoon red pepper flakes
approximately 1 cup fresh basil pesto
1 to 2 cups grape tomatoes, halved
1 to 2 cups shredded Mozzarella cheese
freshly ground black pepper
fresh basil sprigs for garnish
Pour white wine in bottom of a 9 x 13 glass baking dish. Place chicken breasts, side by side, in dish. Sprinkle chicken with the onion powder and red pepper flakes. Cover tightly with foil. Bake in preheated oven for 20 minutes. Uncover. Turn oven temperature to 400 degrees F. Top each chicken breast with a couple Tablespoons (or more) fresh pesto. Sprinkle fresh pepper over. Return uncovered dish to oven and bake for 20 additional minutes. During last 5 minutes of baking time, sprinkle cheese evenly over chicken. Once chicken is done and cheese is melted, remove from oven. Top with the halved tomatoes and fresh basil sprigs. Serve immediately. This is wonderful served atop simple, buttered spaghetti!
Enjoy!
~Melissa
You may enjoy these related posts: