Print Friendly Version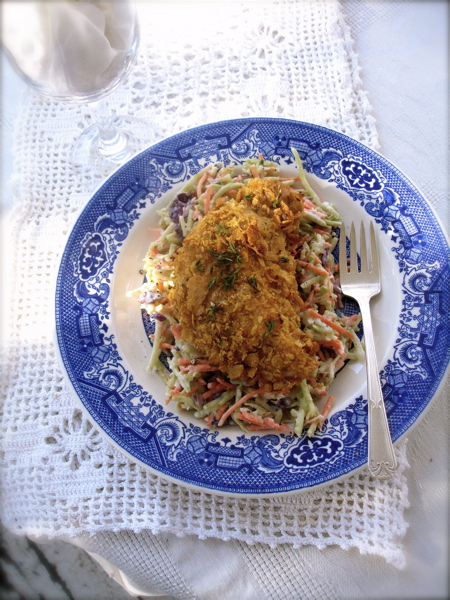 ~ cornflake-crusted chicken on broccoli slaw with ginger essence ~
Here's an easy, healthy recipe for you when you're low on ingredients and short on time. It took me about 10 minutes to whip this up last night and only about a half hour for it to bake. It's crunchy, tasty, and nobody will know it's low-fat unless you tell them.
for the chicken:
4 boneless, skinless chicken breasts, thawed
1/2 cup canola oil Hellmann's mayonnaise
1 teaspoon onion powder
1/2 teaspoon garlic powder
dash of cayenne
3-4 cups crushed cornflakes
salt and  fresh, black pepper
Combine spices with the mayonnaise and brush the mixture all over the thawed chicken breasts. Dredge in the crushed cornflakes, pressing to help them stick. Place chicken pieces in a lightly oiled, glass cake pan, sprinkle a little salt and pepper over the top and bake at 400 degrees F until the chicken is completely cooked through and juices run clear.
for the slaw:
Combine a package of broccoli slaw with approximately 1/4 cup coleslaw dressing (or a combination of canola mayo, cider vinegar, salt, pepper, celery seed and honey to taste.) Add a couple teaspoons fresh grated ginger to the slaw and mix well.
Place a mound of the slaw on each plate and top with one of the chicken breasts. Garnish with a sprinkling of fresh herbs if you wish.
Enjoy!
~Melissa
You may enjoy these related posts: