Print Friendly Version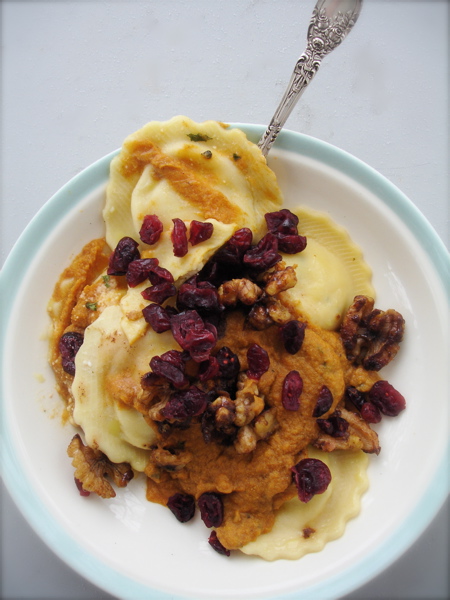 This is an amazingly flavorful and unique dish. If you use prepackaged, fresh ravioli it goes together in a snap. A fantastic dish to make for impromptu lunch or dinner company.  This time I used big, five cheese ravs and it turned out so yummy! Jeff and I are still learning how to make the perfect pasta with our pasta maker, so stay tuned for fresh pasta recipes that will be featured in future posts.
4 generous portions
1 lb. fresh cheese ravioli
1 cup walnut halves
1 cup craisins
1/4 cup butter, divided
2 cloves fresh minced garlic
2 teaspoons dry sage, crumbed
1 (15 oz.) can pure pumpkin puree
2 Tablespoons honey
1/2 cup greek yogurt
chicken broth (as needed to thin the sauce)
1/2 teaspoon pumpkin pie spice
1 teaspoon onion powder
salt and fresh ground pepper to taste
1/4 cup cinnamon & sugar mixture
cayenne pepper
fresh Parmesan or Asiago cheese
Bring a pot of salted water to boil and cook the raviolis according to package directions or use your favorite homemade ravioli recipe and cook the ravs as you usually would. Heat a small skillet over medium flame. Add walnut halves to the skillet and stir them, watching closely so they don't burn. Once they're starting to smell fragrant, add three Tablespoons butter and the cinnamon and sugar to the pan. Stir constantly until the butter and sugar start to caramelize and get sticky. Sprinkle a little salt and cayenne pepper over the walnuts. Remove from heat and allow the praline on the nuts to harden.
Heat the remaining one Tablespoon butter in a large, heavy skillet until bubbling. Add the garlic and saute one minute. Add the sage, pumpkin, honey, yogurt, chicken broth, pumpkin pie spice, onion powder, salt and pepper to the pan. Using a wire whisk, stir frequently until sauce is completely combined, smooth and heated through. Add extra chicken broth to thin the sauce to desired consistency.
Plate the ravs in pretty, shallow soup or pasta bowls. Pour some of the sauce over each portion. Sprinkle some of the praline walnuts, craisins and a little freshly grated fresh Parmesan or Asiago cheese over the top.
Enjoy!
~Melissa
You may enjoy these related posts: