Print Friendly Version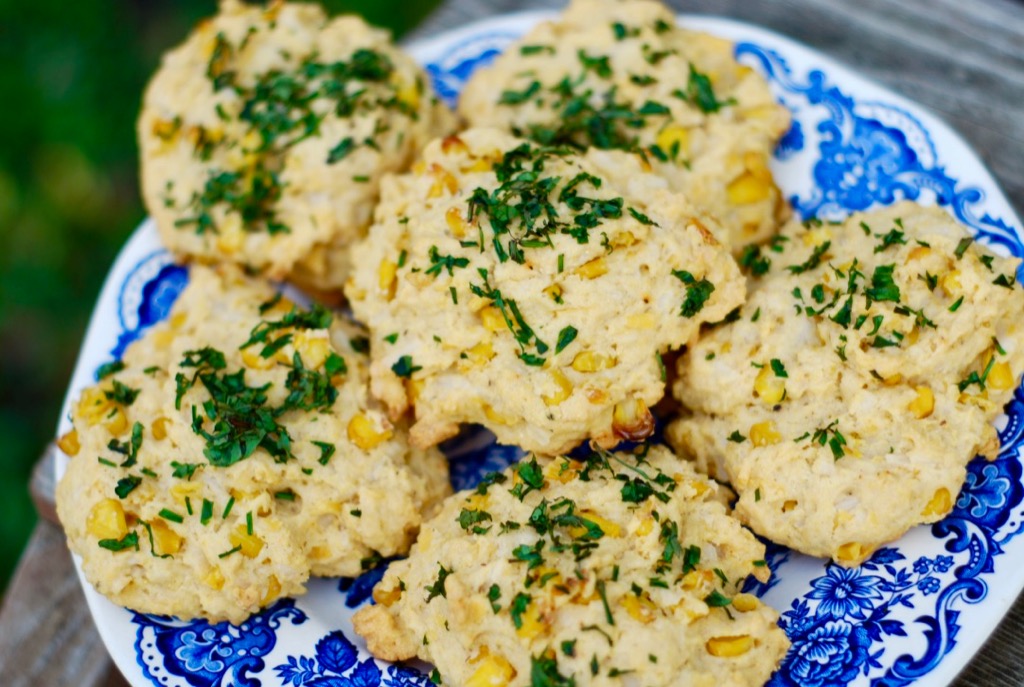 We love some sort of bread or biscuits with our soups, stews, and chilis. Biscuits are probably our first choice because they're so versatile and easy to prepare. You can whip up a batch in no time, and choose a flavor that will perfectly accompany whatever you are eating.
We had these with chili and a big salad. I was thinking they'd be amazing topped with tomato jam, or made into delicious breakfast sandwiches! Can you think of other unique ways to serve them?
~ Preheat oven to 450 degrees F. ~
1 and 1/2 cups all purpose flour (you can substitute half with whole wheat flour if you wish)
1/2 cup yellow or white cornmeal
2 teaspoons baking powder
1 teaspoon onion powder
1/2 teaspoon baking soda
1/2 teaspoon garlic powder
2 Tablespoons sugar
1/4 cup vegan butter (cold)
1 scant cup fresh corn kernels (or frozen and then thawed)
1 scant cup plain, unsweetened plant milk (I used soy)
2 Tablespoons fresh lemon juice
1 cup shredded vegan cheddar cheese (Daiya Cutting Board is good)
finely chopped fresh chives and/or parsley for garnish
Combine soy milk and lemon juice in a small bowl. Set aside.
Combine flour, cornmeal, baking powder, onion powder, baking soda, garlic powder, and sugar in a large mixing bowl. Cut in butter using a pastry blender, two knives, or a fork, until mixture resembles small pebbles.
Add the corn and the milk mixture. Fold in cheese. Mix just until all ingredients are distributed and everything is evenly combined. Don't over mix.
Drop 8 biscuits of equal size onto a large parchment-lined or silpat-lined baking sheet. Top each with a sprinkle of the chives and/or parsley.
Bake until light golden brown and compeltely set in middle. This should take approximately 15 minutes.
Serve warm.
Enjoy!
~Melissa
You may enjoy these related posts: