Print Friendly Version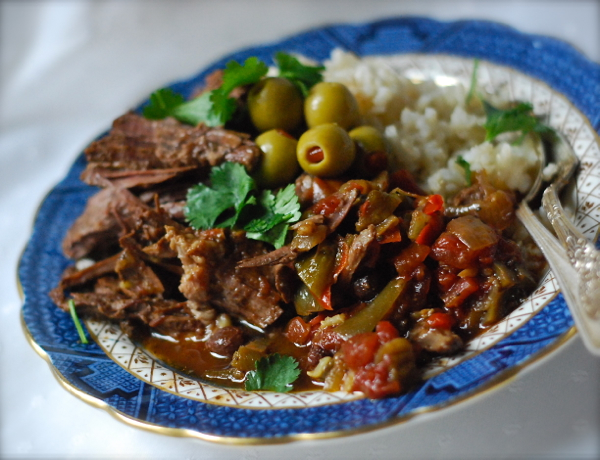 This Cuban beef dish is healthy, high protein and delicious. The beef becomes ultra tender as it simmers away in the aromatic sauce in your slow cooker. Hearty, wholesome, comforting. Perfect winter fare.
serves 8-10
4 Tablespoons extra virgin olive oil, divided
4 lb. flank steak OR chuck roast
1/2 cup all purpose flour
1 teaspoon sea salt
1 teaspoon freshly ground black pepper
1 large onion, peeled, halved and thinly sliced
1 sweet green bell pepper, stem and seeds removed, thinly sliced
1 sweet red bell pepper, stem and seeds removed, thinly sliced
4 to 6 large garlic cloves, minced
1 cup raisins or golden raisins
1 cup unsalted beef stock or broth
1/4 cup tomato paste
2 teaspoons ground cumin
1 Tablespoon dried oregano
2 (14.5 oz.) cans unsalted fire roasted diced tomatoes OR 3 (10 oz.) cans unsalted Ro-Tel
1 cup pimento-stuffed olives (or more)
chopped, fresh cilantro
sambal oelek (optional)
 Coat a 7 to 8 quart slow cooker with vegetable oil. Heat 3 Tablespoons extra virgin olive oil in a large, heavy skillet over medium-high heat. Mix the flour, salt and pepper together on a plate. Dredge the roast in the flour, coating completely. Brown the prepared roast in the hot olive oil in the skillet (3 to 4 minutes per side.) Transfer to slow cooker. Add the last Tablespoon of the olive oil to the skillet. Add the onions and peppers, and saute until veggies are slightly tender (approximately 3 minutes.) Stir in the minced garlic during the last minute of cooking time. Add the sauteed veggies to the slow cooker along with the raisins. Mix the stock and tomato paste together in a bowl and pour over the veggies in the slow cooker. Sprinkle the cumin and oregano over everything. Finally, add the diced tomatoes along with the juice from the cans. Cover slow cooker and place on the LOW setting for 8 hours. Roast is done when it's falling apart and very tender.
An hour before the 8 hours is up, make your brown rice according to package directions for a yield of 4 cups of cooked rice.
To serve: place 1/3 cup to 1/2 cup cooked rice in each person's bowl. Butter the rice if you like. Top with some of the beef, veggies and cooking juices from the slow cooker. Garnish with olives and fresh, chopped cilantro. Salt and pepper to taste. I serve this dish with sambal oelek hot sauce and I think it's the perfect accompaniment.
Enjoy!
~Melissa
You may enjoy these related posts: