Print Friendly Version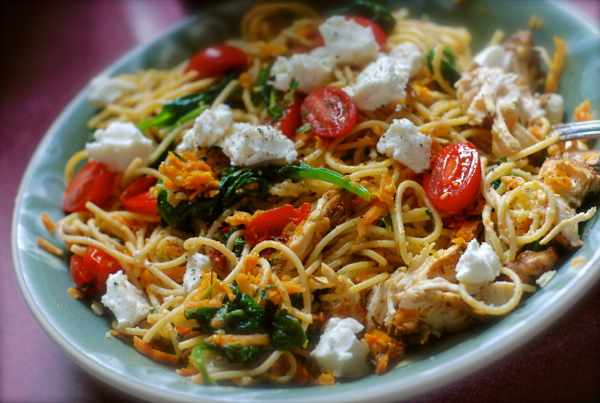 Healthy comfort food is the goal during the long winter months when everyone is craving warm, delicious (usually carb-laden) meals. I like to use whole grain, high fiber, high protein pastas, brown rice, farro, and quinoa in place of the white pasta and rice that is commonly found in the classic comfort fare. I also LOVE seeing how many fresh veggies I can sneak into our meals. This spaghetti bowl is chock full of them. They add beautiful color, flavor and texture to this dish.
This entree was inspired by a yummy lunch I enjoyed at my friend Nancy's house last week. I added chicken for protein and tweaked it to make it mine, but I believe the original recipe was from Shape Magazine.
for 4 people:
4 small boneless chicken breasts, fully cooked and cubed or shredded
8 to 10 oz. whole grain or whole wheat spaghetti (We like Barilla Protein Plus)
2 to 3 Tablespoons extra virgin olive oil
6 large cloves garlic, minced
4 to 5 cups shredded sweet potato
1/2 teaspoon sea salt
5 to 6 oz. baby spinach
1 cup grape tomatoes, halved
1 Tablespoon chopped, fresh thyme + more for garnish
1/3 cup chopped, fresh basil
4 oz. crumbled chevre (goat cheese) or more
freshly ground black pepper
Sambal Oelek or Sriracha (optional)
Cook chicken until no longer pink and set aside, or use leftover chicken pieces.
Cook pasta according to package directions. Drain well, place in a big bowl, toss with a little olive oil, cover and set aside.
Heat 2 to 3 Tablespoons olive oil in a large, heavy skillet. Add garlic and sweet potato. Cook, stirring occasionally, until potato starts to soften, approximately 3 to 4 minutes. Add salt, spinach and thyme. Cook just until spinach is wilted.
Divide cooked pasta between 4 single serving pasta bowls. Top with the sweet potato spinach mixture. Toss. Top each serving with some of the grape tomatoes, more fresh thyme, some of the fresh basil an ounce (or so), the crumbled goat cheese and fresh black pepper. Finally, add the cooked chicken. Drizzle each serving with a little more olive oil and/or hot sauce, if you wish.
Enjoy!
~Melissa
You may enjoy these related posts: