Print Friendly Version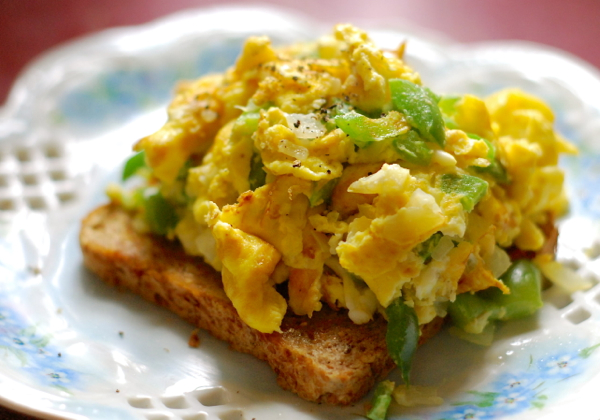 I was craving one of these classic Denver sandwiches something fierce a few days ago, so I decided to whip one up for my breakfast and share it here. So easy and delicious. No frills. Traditionally served on white toast, I'm an Ezekiel bread girl now, so I did make that change. You can make this "omelette" style or scrambled (as pictured above.) I know that the classic sandwich is almost always served with ham on it, so add chopped ham if you wish. This time I made mine without. Serve with two pieces of toast, or open faced.
for one Denver sandwich:
1 piece of buttered toast
1 Tablespoon butter (for the skillet)
1/4 cup chopped onion
1/4 cup chopped green pepper
1/4 cup chopped ham (optional)
2 large eggs, beaten with 1 Tablespoon water
salt and pepper, to taste
Make a piece of toast and butter it. Place toast on a plate. In a skillet, heat the butter until melted. Add the onion, green pepper and ham. Saute until veggies are tender and slightly golden and ham is warm. Add eggs and scramble until done to your liking. Pile egg mixture on toast. Salt and pepper to taste, serve.
Enjoy!
~Melissa
You may enjoy these related posts: