Print Friendly Version
"The market ladies sell spice necklaces–garlands of cloves, cinnamon bark, bay leaves, cocoa beans, mace and nutmeg–that are irresistible. I now have them hanging all around the boat, making it smell spicy and delicious. Mangoes are in season, and literally falling off the trees–an embarrassment of mangoes, to someone from the north. We feel duty bound to try as many varieties as we can." ~Ann Vanderhoof An Embarrassment of Mangoes
A couple winters ago, when the snow was knee high and the sky a silver grey hue, I picked up a book that I read about in my page-a-day "Book Lovers Daily Calendar." I always find great book recommendations in this handy little helper!
The book I found that winter day, that is now one of my all-time favorites, is called:
An Embarrassment of Mangoes by Ann Vanderhoof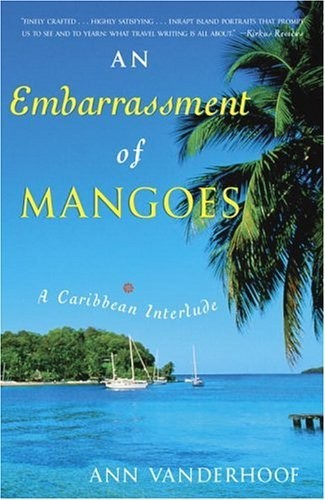 This book is written by a woman who decided, along with her husband to come up with a plan to rent out their home, move to a 42-foot sailboat, and set sail for the Caribbean. Their journey lasted two years, during which time they sailed to sixteen countries surrounded by turquoise sea, periwinkle sky, and paradise. It's a book full of humor, adventure, and my favorite…unique, delicious recipes!
Some of my favorite recipes from this book:
Bahamian Mac and Cheese
Mango Crisp
Papaya Banana Muffins
Spicy Island Gingerbread
and the one I have made over and over…and again for dinner last night…
Cheesy Chicken with Avocado and Tomato Salsa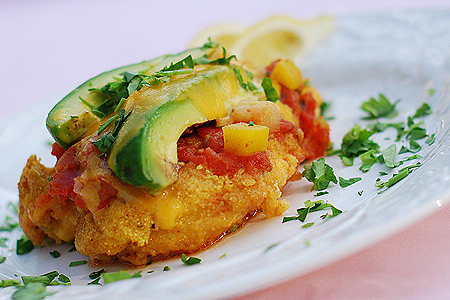 1/3 cup cornmeal
salt and freshly ground black pepper
1/4 teaspoon red pepper flakes
4 boneless, skinless chicken breasts
3 Tablespoons olive oil
2 garlic cloves, quartered
1/2 lime or lemon
1/2 cup fresh or store bought tomato salsa (I used a brand that makes a variety with mangoes, peaches and pineapple)
1 ripe avocado, peeled, pitted and thickly sliced
4 slices extra sharp cheddar, monterey jack or queso de freier cheese
fresh cilantro, chopped
Combine cornmeal, salt, pepper, and red pepper flakes. Dredge completely thawed chicken breasts in mixture. Heat olive oil in a large, heavy bottomed frying pan with a lid. Gently saute the garlic pieces for a minute or two. Add the chicken breasts, and saute until a golden brown crust has formed (6 or 7 minutes per side.) Squeeze the lime or lemon over the chicken. Check to see that the chicken is almost done. Top each breast with some salsa, a couple slices of avocado, and a slice of cheese. Lower heat, cover, and cook a minute or two longer until the cheese has melted. Garnish with the cilantro. Serve with coconut rice, a mixed green salad drizzled with pineapple vinaigrette, and more sliced avocado and tomato on the side.
Tip: This recipe can easily be adapted for the grill. Marinate chicken in lime juice, olive oil, red pepper, cilantro and garlic for at least 30 minutes. Grill over medium-high heat until the chicken is almost done. (About 5 minutes per side.) Top each breast with salsa, a couple slices of avocado, and a slice of cheese. Cover grill and cook a minute or two longer, until cheese is melty.
Have a little party on your deck, serve this lovely dish and make mai tais or pina coladas!
Enjoy!
~Melissa

You may enjoy these related posts: