Print Friendly Version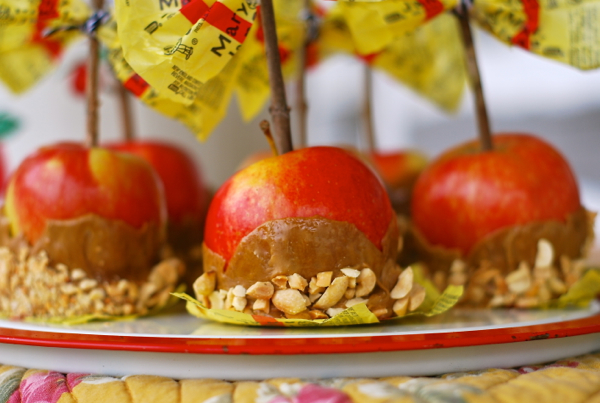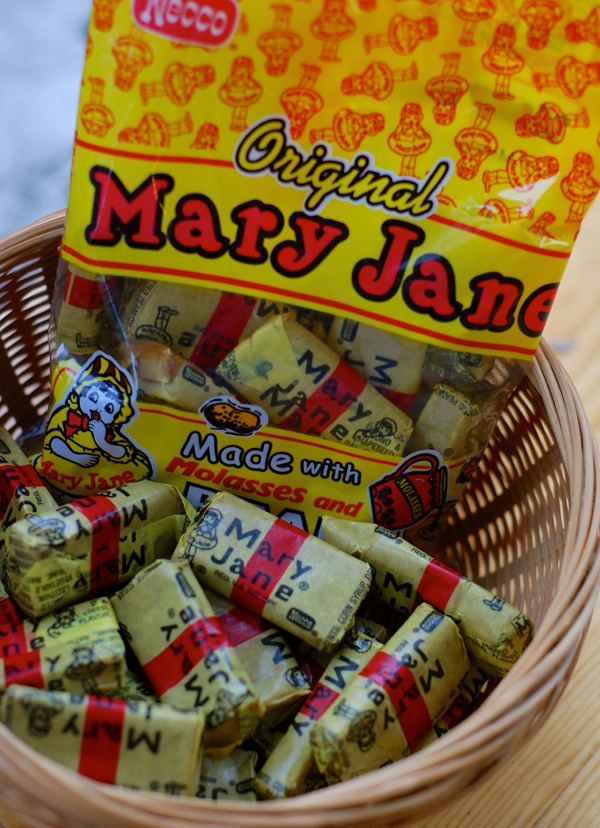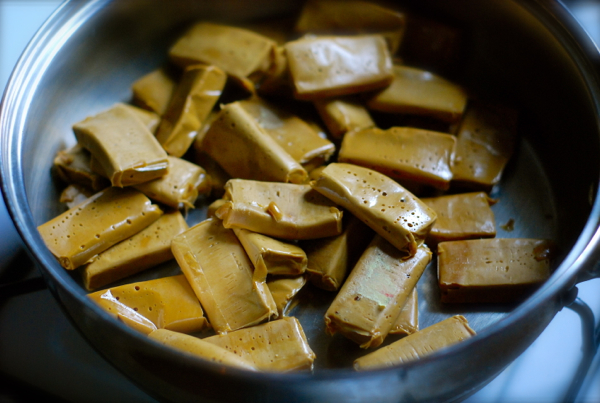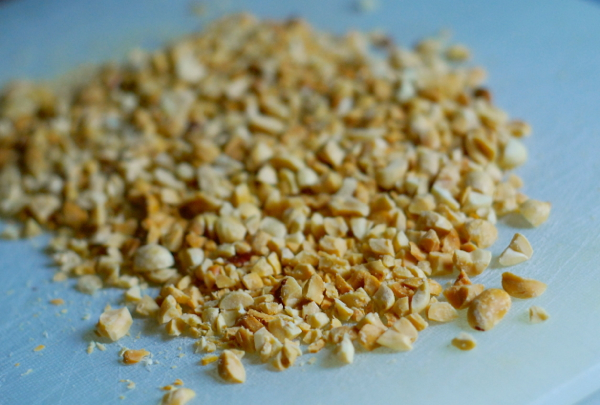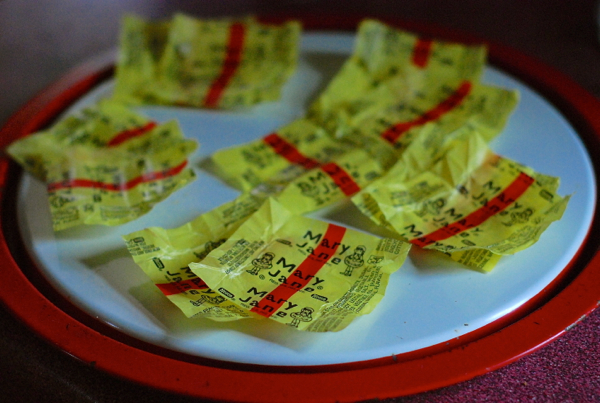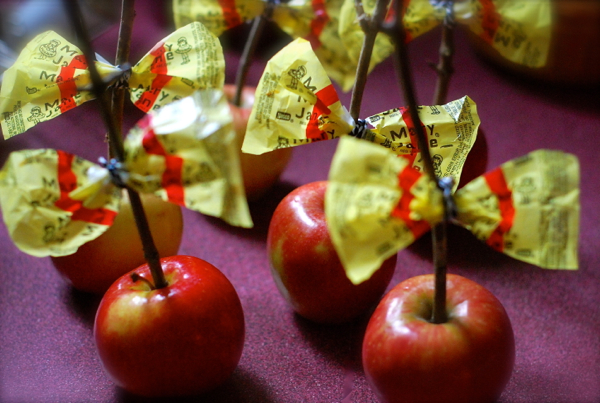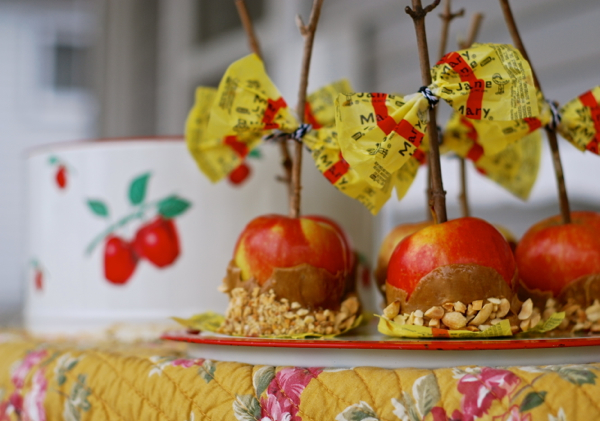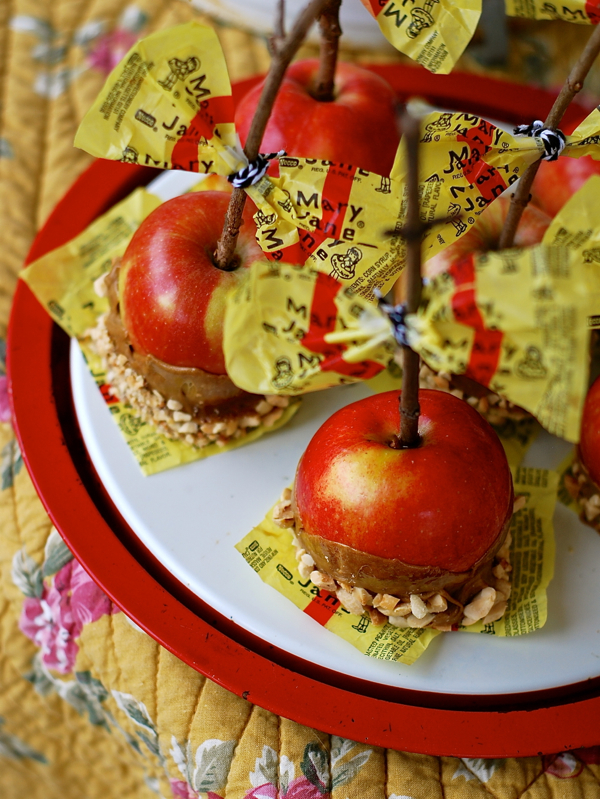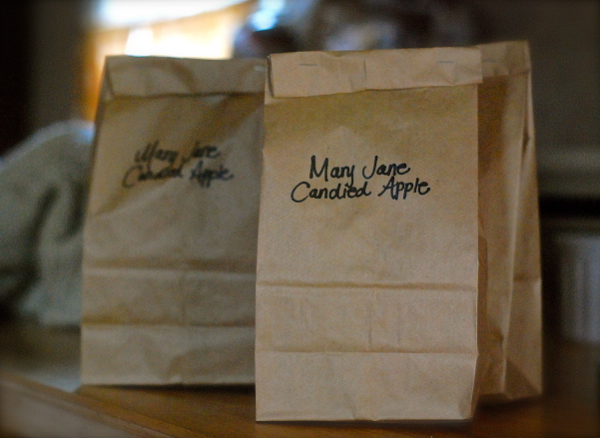 Who doesn't love browsing the aisles of an old fashioned candy shop? It's one of our favorite things to do. Whenever we happen upon one we load up on salt water taffy, black licorice caramels, squirrel nut zippers, turtles, Zots, Razzles, Chuckles, Ice Cube chocolates…. Ohmygosh. There are so many!
Recently I was in such a candy shop and found Mary Janes. I had almost forgotten about them! They're quite similar to Bit-O-Honey, but I like the wrappers a lot more. They're adorable! And that red stripe! Okay. Time to figure out a way to feature them in a blog post.
I decided on candied apples! Just in time for Christmas!
for 6 medium candied apples:
6 medium, crisp apples
40 Mary Jane candies + wrappers
1/2 teaspoon coarse sea salt
chopped peanuts
6 twigs, lollipop sticks, or popsicle sticks
Wash and dry apples well. Remove stems. Insert washed and dried twigs into stem ends, being careful not to push the stick all the way through the apple. Create little "bows" out of some of the candy wrappers if you wish. For each bow, I taped two wrappers together and cinched them in the middle with black and white baker's twine. Then I just tied them to the twigs. You can skip this step if you like, but I think they add a little something special to the finished confections.
Chop peanuts. Place some of the candy wrappers (2 per dipped apple) on a plate.
Place hot water in bottom of double boiler. Bring to boil. Place candies in the top of a double boiler. Add salt. Heat over medium flame until melted. Dip apples, one at a time, in the melted candy, then roll in the chopped peanuts.
Place apples on flattened candy wrappers. Cool completely. Enjoy right away, or place each in an individual ziploc bag and seal. Then place in brown paper lunch bags, roll tops, staple, and label. Give as party favors. Candied apples will keep for one week.
Enjoy!
~Melissa
You may enjoy these related posts: