Print Friendly Version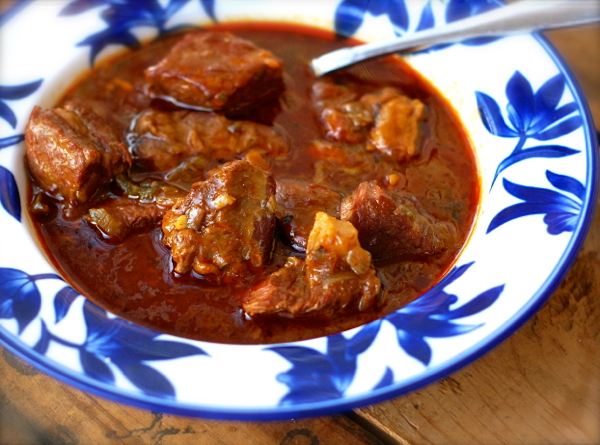 Did you know that authentic Texas Chili has no tomatoes or beans in it? If you're used to chili with beans, tomatoes, corn and ground beef, this is not that. This is more like Mexican beef stew. It's hearty, delicious, spicy and more refined than what I would call "traditional" chili.
I adapted this easy recipe for the slow cooker. Round steak or chuck arm roast both respond wonderfully to hours of slow, low cooking. The end result is extremely tender meat in a dark, rich, stew like broth. We like our Texas Red served with my Magic Custard-Filled Cornbread, but feel free to serve it with your favorite, or a loaf of crusty, buttered baguette!
serves 8
4 lb. round steak or chuck arm roast
1/3 cup all purpose flour
1 Tablespoon paprika
1/4 cup vegetable oil
4 medium onions, chopped
8 cloves garlic, minced
4 dried ancho chilies
4 cups beef stock
1 (12 oz.) beer
1 cup of water
4 jalapeno chiles, minced
1/4 cup mild chili powder
1 Tablespoon smoked paprika
2 Tablespoons dried oregano
1/2 teaspoon cayenne pepper
Cut beef into 1 inch cubes. Toss with the flour and paprika. Heat oil in a large, heavy skillet over medium heat. Saute beef in small batches, until browned on all sides (approximately 4 minutes per batch.) Remove each batch once browned, and place in a 7 to 8 quart slow cooker. Cook onions and garlic in skillet drippings for 5 minutes or until tender and golden brown around edges of onion pieces.
Soak ancho chiles in 1 cup of hot water for 25 minutes. Drain. Place in bowl of a food processor along with 1/2 cup of water. Puree and add to slow cooker along with the remaining ingredients. Cover slow cooker and cook on LOW for 8 hours, stirring once or twice during cooking process. It's done when the meat is falling apart-tender and the broth is slightly thickened.
Enjoy!
~Melissa
You may enjoy these related posts: